I've been told I'm a bit of an outlier when it comes to nutrition advice, but the vegan lifestyle is something that people have come to know me for. They still give me funny looks sometimes, though, because my whole food, vegan advice doesn't fit the traditional mold.
But along with my own schooling and continuing education, I've learned a ton from other experts that are way more knowledgeable than me. In fact, these professionals have been guiding the field for years and their knowledge is truly unparalleled!
There are a ton of nutritionists, doctors, scientists, researchers, professors, and experts across the globe who also believe that a vegan diet is a healthier option.
Here are 19 vegan medical doctors who have their own blogs and websites. Each of these amazing people is definitely worth checking out!
The list is in no particular order.
Michael Greger, MD, FACLM
Dr. Michael Greger is the founder of NutritionFacts.org , is a licensed physician, an internationally recognized professional speaker on a number of important public health issues, and runs a podcast with quite bits of information on how to follow a healthy, plant-based diet. In addition to his hundreds of nutrition videos responding to your questions, Dr. Greger has authored many books including How Not to Die and How Not to Diet. These books focus on eating a whole foods, plant-based diet, and are incredibly well researched.
websites: drgreger.org and nutritionfacts.org.
Instagram: @nutrition_facts_org
podcast: NutritionFacts Video Podcast
Joel Fuhrman, MD
Dr. Joel Fuhrman is the author of Eat to Live and is Dr. Oz's personal physician. He has been a physician for over 20 years. He also owns and operates a practice where he specializes in preventive medicine, nutritional counseling, and clinical nutrition therapy. He's the author of "Eat To Live" which was on The New York Times bestseller list for nearly four years. Dr. Fuhrman has also authored 18 other books, including Nutritional Sciences: From Fundamentals to Food.
website: drfuhrman.com/
Instagram: @joelfuhrmanmd
T. Colin Campbell, PhD
T. Colin Campbell is a scientist with over 30 years of research on nutrition and how it relates to health. He received his Ph.D. from Cornell University in biochemistry, did post-doctoral research at the Massachusetts Institute of Technology, then served as professor of nutritional biochemistry at Cornell University.
His primary focus is on the association between diet and disease, particularly cancer. Dr. Campbell's biggest impact includes extensive involvement in education, public policy, and laboratory research.
Campbell's book The China Study is the culmination of the most comprehensive study ever undertaken linking diet and disease, which found that plant-based diets may be able to avoid or even reverse many of the leading causes of death in Western culture.
He is regarded as one of the most important voices in nutrition today.
website: nutritionstudies.org/
Instagram: @nutritionstudies
Kim Williams, MD
Dr. Kim Williams is a Fellow of the American College of Cardiology and served as its president from 2015 to 2016, and professor and chief of cardiology at Rush University Medical Center in Chicago. His mission is to eradicate heart disease.
He believes that the best way to prevent chronic diseases is through lifestyle changes. His advice is based on scientific evidence and observational studies.
He is famous for answering, "I don't mind dying, I just don't want it to be my fault." when asked why he chooses to be vegan. He also stated that there are "two kinds of cardiologists: vegans, and those who haven't read the data."
Tracye McQuirter, MPH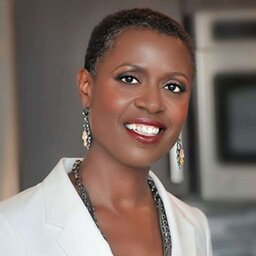 Tracye McQuirter, MPH is a 34-year vegan, best-selling author, award-winning public health nutritionist, and vegan trailblazer. She is the founding director of the Black Women's Health Imperative, a national wellness advocacy organization focused on improving health outcomes for African-American women and girls.
She has written three books about health and wellness, including Ageless Vegan, By Any Greens Necessary, and The African American Vegan Starter Guide.
In her own words, "I've spent the last 30 years teaching people how to go vegan for life and love it. And I'd love to help you, too. Let's do this together!"
website: byanygreensnecessary.com/
Instagram: @byanygreens
Ayesha Sherzai, MD, MAS and Dean Sherzai, MD, PhD, MPH, MAS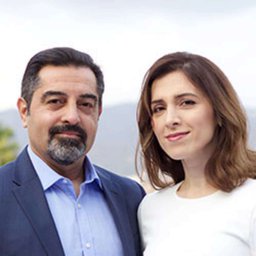 Dean and Ayesha Sherzai have devoted their careers to exploring the prevention of Alzheimer's disease, with a focus on nutrition. They have dedicated their lives to ensuring that people are aware of the critical role played by diet in promoting good health and preventing chronic diseases, especially Alzheimer's.
Their book, The 30 Day Alzheimer's Solution, is a must-read for everyone, but especially those that are experiencing symptoms of age-related cognitive decline or that have a family history of Alzheimer's or dementia.
website: teamsherzai.com/
Instagram: @sherzaimd
Jackie Busse, MD, FAAP
Jackie Busse, MD is a board-certified pediatrician with expertise in evidence-based lifestyle and preventive medicine. She focuses on the power of whole-food plant-based nutrition to prevent and reverse disease.
Dr. Busse, since first reading The China Study and going vegan herself, has gone through two plant-based pregnancies and is raising her own kids on a whole-food, plant-based diet.
In addition to her full-time pediatric practice in central California, she teaches a regular plant-based nutrition class.
As a vegan father, even as a professional Holistic Nutritionist, this is another resource that I regularly access for tips and tricks with raising my own children.
website: plantbasedpediatrician.com/
Instagram: @plantbasedpediatrician
Caldwell Esselstyn, MD
has been treating patients for over 30 years and has seen many success stories.
Dr. Caldwell Esselstyn is a cardiologist and author, who appeared in the film Forks Over Knives with Dr. T. Colin Campbell. He has developed a plant-based diet that helps reverse heart disease in patients over time. He advocates for a whole food plant-based diet that cuts out oils, nuts, seeds, and avocado to promote better health and reduce the risk of chronic diseases.
Dr. Esselstyn is often referred to as one the foremost experts on nutrition with regards to chronic diseases in America today with nearly three decades of clinical experience in cardiology practice in general and coronary artery disease in particular. He is the author of the international bestseller Prevent and Reverse Heart Disease, along with a follow-up cookbook, which has helped countless people reverse heart disease by eating a plant-based diet.
website: dresselstyn.com/
Instagram: @dresselstyn
John A. McDougall, MD
John A. McDougall, MD is a family physician in Tucson, Arizona. He is the co-founder, along with his wife, of the McDougall Program, which offers free education on how to adopt a low-fat, starch-based vegan diet.
He offers a 12-day intensive program, The McDougall Program, for people looking to change their lives through diet. Not looking for a live program, he also offers a self-paced online program, The Starch Program, for health professionals and non-health professionals alike.
Dr. McDougall is the author of several books about health and nutrition, including his most recent book titled The Starch Solution: Eat The Foods You Love, Regain Your Health and Lose the Weight for Good!.
website: drmcdougall.com/
Instagram: @themcdougallprogram
Angie Sadeghi, MD – The Trifecta of Health
Dr. Sadeghi is the founder and CEO of the Institute of Plant-Based Medicine. Here, doctors take a "plant-forward approach" with their patients, as well as spending considerably more time with patients than our current medical model allows.
Her book, The Trifecta of Health focuses on the 3 essential components for a healthy life: nutrition, fitness, and mental well-being. The book covers her views on these three components and how they affect our daily lives in a self-help format, with exercises and tips any age can follow.
website: iopbm.com/pages/dr-angie-personal-page
Instagram: @angie.sadeghi
Dean Ornish, MD
Dr. Dean Ornish is a researcher and physician. His work has been honored by the National Institutes of Health, the American College of Cardiology, and Harvard Medical School. His life-changing programs are based on the latest findings in cellular biology and coronary heart disease prevention, which show that you can actually reverse heart disease by following a 100% plant-based diet.
Dr. Ornish's Program for Reversing Heart Disease provides simple steps to changing your behavior to prevent or reverse heart disease without surgery or medications.
His website also has a section of research-based articles, known as The Ornish Living Magazine. Here he provides incredible information to help you on your journey. He has also written several books that are must-reads if you are confronting any chronic disease, especially heart disease.
website: ornish.com/
Instagram: @deanornishmd
Dr. Garth Davis
Garth Davis, MD, is the medical director of the Davis Clinic at the Methodist Hospital in Houston, Texas. You may recognize him from his starring role on the hit TLC show Big Medicine as well. He is certified by the American Board of Surgery, is a Fellow of the American College of Surgeons, and a Fellow of the American Society for Metabolic and Bariatric Surgery.
On the personal side, Dr. Davis competes in marathons and Ironman triathlons. He's also a reformed junk food addict who has been able to lose a significant amount of weight by eating a high-fiber vegan diet.
He is the author of Proteinaholic: How Our Obsession With Meat Is Killing Us and What We Can Do About It, and has a website to go along with the title that has a ton of helpful information for anyone who is thinking about making a change.
website: proteinaholic.com/
Instagram: @drgarthdavis
Dr. Michael Klaper
Dr. Michael Klaper has been a practicing physician for more than 35 years and is an internationally known lecturer on nutrition and public health. His research and clinical experience focus on the benefits of a plant-based diet emphasizing optimum nutrition, good control of chronic diseases such as cardiovascular disease, diabetes, and cancer, and slowing the aging processes.
Dr. Klaper is the author of Vegan Nutrition; Pure & Simple, and has produced numerous health videos, webinars, and dozens of articles for both scientific journals and the popular press.
Dr. Klaper teaches that "Health Comes From Healthy Living" and he is dedicated to the healing and flourishing of all living beings and our planet.
website: doctorklaper.com/
Instagram: @dr.michaelklaper (while he does have an Instagram account, he has yet to post. His efforts are currently spent primarily on his role as a practicing physician and his website. But I follow his account so that I know when he decides to begin posting).
Milton Mills, MD
Dr. Milton Mills is a Critical Care Physician at Inova Fairfax Hospital in Washington DC. You may recognize him from the movie, What The Health, where he famously talks about how plants make protein, not animals!
He is the author of Eat To Live, which is about how whole foods – especially raw fruits and vegetables – can heal your body and mind. His website is up to date and chock full of incredible information!
website: drmiltonmillsplantbasednation.com/
Instagram: @miltonmillsmd
Kristi Funk, MD
Dr Kristi Funk is a board-certified breast cancer surgeon and physician, bestselling author, international keynote speaker, and women's health advocate. And she famously fights breast cancer with plants.
She and her husband Andy are co-founders of the Pink Lotus Breast Center in Beverly Hills, CA.
With her book, Breasts: The Owner's Manual, she aims to educate as many women as possible about what they can do to stop breast cancer before it starts.
In a recent interview, Dr. Funk discussed her decision to eat a vegan diet. She stated that "the body's cellular response to consuming animal protein and animal fat is everything that feeds and fuels illness while chocking health to death. Estrogen levels rise, growth hormones skyrocket, inflammation abounds, free radicals run around damaging cells and mutating DNA."
website: pinklotus.com/
Instagram: @drkristifunk
Dr. Joel Kahn
Known as "America's Healthy Heart Doc," Dr. Joel Kahn is a preventive cardiologist and clinical researcher with 30 years of experience. He focuses on identifying risk factors for heart disease and stroke, and the effects of diet and lifestyle changes on them.
With this background, he has been an advocate for plant-based diets and sustainable farms. Dr. Kahn has published more than 200 articles in peer-reviewed journals. He's also written seven books, including The Plant-Base Solution and Vegan Sex: Dump Your Meds and Jump in Bed.
website: drjoelkahn.com/
Instagram: @drjkahn
Neal Barnard, MD, FACC
Dr. Neal Barnard is a vegan physician who heads up the Physicians Committee for Responsible Medicine (PCRM), which provides health information to over 500,000 people every month.
PCRM is a non-profit organization of 12,000 doctors and health professionals who are dedicated to using their expertise in medicine and research to educate the public on preventative medicine. Their focus is on promoting wellness, especially when it comes to diabetes, heart disease, and cancer. They encourage people to adopt a whole food plant-based diet rich in fiber and low in fat. Their website has free information about plant-based nutrition as well as recipes and a diet blog.
website: pcrm.org/
Instagram: @physicianscommittee
podcast: The Exam Room
Terry Mason, MD
Dr. Terry Mason is the Chief Operating Officer for the Cook County Department of Public Health. His vision is to transform healthcare delivery through the integration of public health and public medicine to create a population-based strategy to manage chronic
disease. You may also recognize him from the films Forks over Knives, Game Changers, Cowspiracy, and The Food Cure.
Dr. Mason continues to share his views on the holistic lifestyle benefits of switching to a plant-based diet on his popular radio call-in show "The Doctor in the House" on WVON 1690 AM, which he's been hosting for more than 21 years!
website: terrymasonmd.org/
Hana Kahleova, MD, PhD
Dr. Hana Kahleova is the director of clinical research for the Physicians Committee for Responsible Medicine. She has conducted several clinical trials, using plant-based diets in the treatment of obesity, diabetes, and metabolic disease. She also has her doctorate in nutrition and diabetes.
She has published more than a dozen nutrition studies! She authored Vegetarian Diet in the Treatment of Diabetes and wrote a chapter about using a plant-based diet to treat diabetes in Vegetarian and Plant-Based Diets in Health and Disease Prevention.
One of her favorite areas of research is studying the effects plant-based diets have on metabolism.
Instagram: @khaleova (she also has yet to post, but is worth following for future posts)
Top Vegan Doctors You Should Be Following Conclusion
The internet is a powerful tool for finding information, and there are many top vegan doctors out there who have their own websites, blogs, social media presence, or podcasts. If you're looking to find some inspiration on how to eat more plant-based foods in your day-to-day life, this list of experts should help get you started!
Need help exploring a vegan diet? Message me or check out my Vegan Nutrition Counseling services.
Can you think of any amazing doctors I missed? Add them to the comments!
Until next time,
Matt
Plant-Based, Plant Built