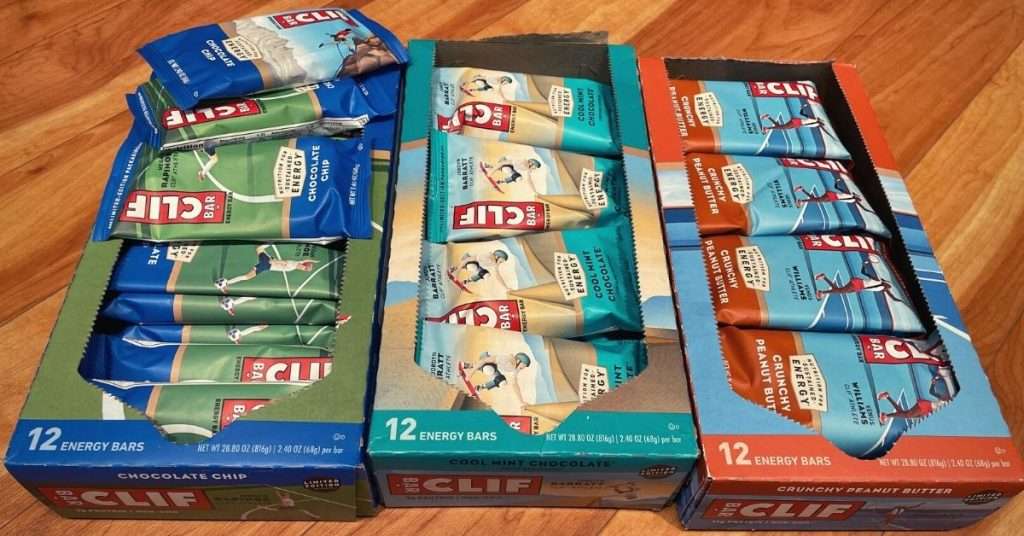 Welcome back to my series, "Is It Vegan?". When it comes to being vegan, not everything is straightforward. Some foods, especially processed foods, have simply too many ingredients to know, even for the most veteran of vegans. So I do the research for you! I break down the simple, the difficult, and everything in between so that you can be sure you are choosing foods that fit your ethics and ideals.
We all need a good energy or protein bar from time to time. Life's simply too busy to have to prepare every meal you are going to eat every day, and snack bars are inexpensive compared to most whole foods.
This post will answer the question, Are CLIF Bars vegan? As with most processed foods, the answer is never as simple as we'd like it to be. Veganism isn't just about avoiding animal products in food, we take into account the entire process for making the foods we enjoy and the environmental impact different ingredients may have.
Continue reading to make sure you know whether or not CLIF bars fit with your personal vegan ethics.
Are CLIF Bars Vegan…According to CLIF
Like most companies these days, CLIF has been asked if their products are vegan-friendly. Here is their response:
"All of our products can fit within a plant-based diet and are made with predominantly plant-based ingredients. In fact, most of our foods contain no intentionally added animal-based ingredients."
CLIF Makes Several Different Versions of Their Popular Energy Bars
The Classic CLIF Bars are probably the ones you came here wondering about. These are by far their most popular energy bar. But the CLIF company makes a wide variety of energy bars, ranging from the Classic version to high protein meal replacements, and even snack bars designed for kids.
I'll break down each one and whether or not it is safe for you to eat as a vegan.
Are the Classic Clif Bars Vegan?
The classic version comes in a ton of flavors! Don't assume that just because one flavor of CLIF bar is vegan that they all are.
We'll talk in a bit about strict vegan issues, like palm oil and sugar, but for now, let's just focus on whether or not the traditional CLIF bars have any animal-derived ingredients in them.
Here are the ingredients from the Crunchy Peanut Butter bar, which is very similar to all of their classic bars:
Organic Rolled Oats, Organic Brown Rice Syrup, Organic Tapioca Syrup, Soy Rice Crisps (Soy Protein Isolate, Rice Flour, Barley Malt Extract), Organic Cane Syrup, Organic Roasted Soybeans, Organic Peanut Butter, Peanuts, Peanut Flour, Chicory Fiber, Organic Soy Flour, Natural Flavors, Sea Salt.

You won't find any animal-derived ingredients here! The only classic bar flavor that is not vegan-friendly is the Peanut Butter & Honey flavor. Like the name says, this version has honey in the recipe, which vegans avoid. Honey is food for bees and is essential to keep them warm in the winter. Without honey, they freeze and die.
The classic CLIF bars also do not have any added palm oil, which means even the strictest vegans are happy eating these.
And you'll notice that the sugar is certified USDA Organic, which means it was not processed through bone char, making even their choice of added sugar vegan-friendly!
✅ All classic CLIF bars are vegan-friendly except the Peanut Butter & Honey flavor
Are Nut Butter Filled and Fruit Smoothie Clif Bars Vegan?
CLIF updated its branding for the Nut Butter Filled and Fruit Smoothie bars sometime around 2019. They combined them into a new collection they call CLIF Nut Butter Bars.
Even though their branding changed, their recipes did not.
These are loaded with healthy nut fats, which makes them both delicious and nutrient-dense.
All of the Nut Butter bars are free from animal-derived ingredients. They're also non-GMO and organic.
These do have added palm oil, however, which some vegans want to avoid.
⏸️ Fully vegan ingredients, but skip this one if you avoid palm oil.
Are Clif Builders Protein Bars Vegan?
Where my vegan fitness peeps at?!! If you're like me, you like your protein. I may be vegan, but I'm still chasing fitness goals and want to make sure I have plenty of protein to recover and repair properly.
So Builder Bars seem like a good idea to me!
But protein bars are usually synonymous with animal ingredients, especially milk. Yeah, because we need milk to build strong muscles and bones. Hard pass.
No cows died for these bars to be made. Builder Bars do not have any animal-derived ingredients. They are also organic and non-GMO.
The high protein content comes from soy. CLIF uses both soy protein isolate ad concentrate in this bar, which are great alternatives to whey protein for vegans, as long as you're not allergic to it.
Like the Fruit Smoothie bars, these do contain palm kernel oil.
⏸️ Fully vegan ingredients, but skip this one if you avoid palm oil.
Are Clif Whey Protein Bars Vegan?
No whey for vegans. But these are a 'yes' for my vegetarian friends out there.
Whey is one of the two proteins found in cow's milk. It is the most popular form of protein for powders, meal replacements, and protein bars.
Whey protein is a direct byproduct of the dairy industry and animal exploitations.
So these are no-go for vegans.
Vegetarians, whey is the only animal-derived ingredient in these. So if you are still consuming dairy, these are ok for you.
🚫 Not vegan-friendly due to cow's milk, but safe for vegetarians.
Are CLIF Kid ZBars Vegan?
You probably came here looking for the traditional CLIF bars, but while you're here, let's check on the CLIF bars that are made for kids.
The ZBars have fewer ingredients than the adult versions, which is a bonus. While they're not the healthiest thing on the planet for kids to eat, they're not that bad. And they're definitely healthier than most of the other snack bars and treats that are marketed to kids.
Here are the Ingredients for their Chocolate Chip ZBar:
Oat Blend* (Rolled Oats*, Oat Flour*, Oat Fiber*), Tapioca Syrup*, Fig Paste*, High Oleic Sunflower Oil*, Cane Sugar*, Cane Syrup*, Unsweetened Chocolate*, Natural Flavors, Cocoa Butter*, Baking Soda, Sea Salt, Soy Lecithin*, Vanilla Extract*.
Not too bad from a kids' snack bar health perspective.
They are free from all animal products and have no added palm oil!
I like these and I buy them for my kids.
✅ Fully vegan. Enjoy!
Are CLIF Kid ZBars Protein Bars Vegan?
Nope. These ones use whey to increase the protein content of the bar. I'm guessing they do this to up the calcium content for kids as well.
Personally, I'd like to see them go dairy free and switch out the whey for soy. They could fortify with calcium carbonate, especially since a disproportionately high number of ethnic children are allergic to milk.
These ones also have added palm oil.
🚫 Not vegan-friendly, but safe for vegetarians.
Now that we've covered each of the varieties CLIF has to offer, let's look at a few of the ingredients that are frequently not vegan-friendly.
Is Sugar Vegan?
The sugar used in processed products comes primarily from sugarcane or sugar beets. Sugar beets are always vegan-friendly, but sugarcane can sometimes be the result of animal suffering.
Once sugarcane has been dried and crystallized, it's a tan color and contains various impurities. This is considered Raw sugar. In order to remove the impurities and obtain a pure white color, the sugar must be processed through ion exchange resins, activated charcoal, or bone char.
Bone char, often called natural carbon (doesn't that just sound nicer?), filters are the result of burning animal bones at extremely high temperatures and then reduced to a charcoal-like powder.
In 2020 the USDA removed bone char from its list of approved ingredients or processed, so organic cane sugar has to be processed without bone char.
Read to learn more about sugar and how to tell if the sugar you are buying is vegan-friendly.
CLIF uses organic cane sugar in all of its products!
What's Wrong With Palm Oil?
Palm oil and palm kernel oil are technically vegan because they are not derived from an animal. But many vegans avoid palm oil products because its cultivation has had dramatic effects on tropical rainforests and their inhabitants.
Clear-cutting and burning have wiped out acres upon acres of rare and endangered trees, and countless animals have lost their habitats. This practice has led to the near-extinction of endangered species in these areas, and placed others on the endangered species list.
Deforestation and animal loss aren't the only tragedies of the palm oil industry. Palm plants release peat into the soil where they are planted, which releases an incredible amount of methane in these sites.
Methane is dangerous in the atmosphere, but even more so in the oceans. Methane in the oceans contributes to the ongoing acidification of the waters which is ruining ecosystems.
To add one more layer to the devastating effects palm oil has on the environment and animals who inhabit these forests, take a look at the palm oil industry workers. The pay is insufficient to live on and the working conditions are horrific.
Everyone gets to make their own choice. I just like to have all the facts, so that I know what I'm buying and what I'm supporting with my dollars.
CLIF sources sustainable palm oil.
Sustainable palm oil is better than non-sustainable palm oil production, but not by much. Most plantations that are certified sustainable are on grounds that were already deforested and abandoned. Companies that don't care about the rainforest at all use up the available resources and then move on to the next piece of land.
Sustainable palm plantations purchase these areas that were already stripped. They don't have to worry about the harmful effect of deforestation because they didn't create it in the first place.
But at least the land wasn't cleared by fire, and sustainable companies are working to improve the conditions and lives of workers.
Natural Flavors
The FDA has a long and boring description of what constitutes natural flavors. And yes, some of those natural flavors can come from animals…naturally.
Look at the ingredients in the various flavors and varieties of CLIF bars, the only flavor that sticks out to me is vanilla.
Vanilla flavoring is sometimes sourced from the anal glands of beavers. It's called castoreum (that name just sounds gross!). The chemistry is very similar to what you'd find in a vanilla bean, so the FDA allows for both of them to be called "natural flavors."
✅. CLIF goes out of its way to opt for ingredients that are vegan-friendly, even though some of those ingredients are easier to source from animals. CLIF uses pectin instead of gelatin and vitamin D2 (from plants) instead of D3 (lanolin from sheep's wool). So I have no reason to think that they would source vanilla flavoring from the anal glands of beavers.
What Else I Like About CLIF
The CLIF Bar company is ethically responsible. Their mission statement is clear and they work hard to be as environmentally friendly and sustainable as possible.
And they treat their workers well! Factory workers are encouraged to remain physically fit and active, and they provide workout facilities at their plants for employees to enjoy. The employees can even receive incentives for adopting sustainable lifestyle practices like driving fuel-efficient cars or riding their bikes to work.
Check out their Who We Are page to learn more about their mission.
Are CLIF Bars Vegan Conclusion
CLIF Bars are a delicious on-the-go snack for active people. They aren't super healthy, but they have a decent amount of protein and they're certified organic and non-GMO. They're also easy to find pretty much everywhere and are inexpensive.
With the exception of the Peanut Butter & Honey flavored bar, their Whey protein bar line, all their Kids ZBar Protein, all other CLIF bars are vegan-friendly.
If you take an ethical stance against palm oil, however, avoid all versions of CLIF except for their traditional bars.
What is your favorite vegan snack bar line?