The Breville Juice Fountain Elite 800JEXL is a high-quality blender that will help you create healthy, delicious fruit and vegetable drinks. If you're looking for a way to incorporate more fresh fruits and vegetables into your diet, then the Breville juice fountain elite is just what you need!
The health benefits of fresh, unoxidized juice are numerous. Adding a daily homemade juice to your diet can help you lose weight, enhance your immune system, and give you a nice energy boost. And it's an easy way to get in your daily recommended fruits and veggies.
If you've been juicing and you're in the market for a new machine, you probably already know that a little extra money will go a long way. There's nothing worse than having to shop for a new appliance every year and a half.
Believe me, I know.
I juice every single day, and I've been through my fair share of garbage units.
If you're going to drop some money on a juicer, and you're going to buy fresh fruits and veggies, you may as well spend the money to get a juicer that is going to last, and give you a lot of juice.
I've had my Breville 800jexl Juice Fountain Elite for more than a year and a half. I use it every day. So does my wife! It is by far the best juicer I have ever had!
Let's dive in and I'll tell you exactly why I recommend this juicer.
Heads up: this page includes affiliate links. If you click and make a purchase, I may receive a small commission at no extra cost to you. I only recommend products or equipment I have personally vetted.
Table of Contents
What Is Juicing?
Juicing is simply the process of removing the liquid from fresh fruits and vegetables, discarding the skins, seeds, and rinds. It's an incredible way to increase your daily intake of fruits and veggies and get the vitamins and minerals you need in a delicious drink.
A juicer is an appliance that does all of that work for you. Gone are the days of having to hand juice an orange for fresh orange juice (even though you still can, which is kind of fun).
Breville has become my go-to kitchen appliance brand. I needed a food processor to take some of the burden off of my Vitamix, which I use every day. The Vitamix is amazing, but frozen bananas for vegan nice cream can really take their toll on the motor and blades.
I bought a Breville food processer and loved it so much that I bought their Juice Fountain Elite.
I love it and I use it every day.
What to Look for When Shopping for a Juicer
With several types and models of juicers out there, how do you know which type you want?
How Much Does it Cost? $$$
Cost is definitely going to be a factor. The only thing I can really say here is, you get what you pay for. I've always found I'm better off saving a spending a bit more money so that I end up with a product that lasts. I don't want to have to shop every year, and I hate being frustrated with products that don't work as well as I thought they should.
What Type of Juicer to Get? Masticating vs Centrifugal
There are several kinds of juicers on the market, but the two most common are centrifugal and masticating.
Masticating juicers pull the juice from produce by slowly crushing and pressing them. Just like its name! Essentially, the machine chews the produce and spits out the juice.

Masticating juicers are typically more expensive than centrifugal juicers, but they can generally handle leafy greens better. They also create less heat when they work, which produces juice that will save for longer.
Centrifugal juicers create juice by cutting produce with a fast-spinning blade and forcing it through a strainer. Liquid ends up in your container and the leftover pulp is shot out the other end into a wastebasket. Super fun!

These types of juicers are easy to assemble and clean, which makes them more likely to be used regularly. They can handle a wide variety of fruits and vegetables, but some centrifugal juicers can struggle juicing leafy greens and wheatgrass.
More on that with the Breville later (spoiler, I've never had any problem with getting a good juice yield with leafy greens).
Is It Easy to Use?
If it's not easy to put together, use, and clean, I'm not going to use it. No matter how well it works.
This is a huge thing to keep in mind. It needs to be easy!
Look at how many parts there, how easy they go together, how easy they are to wash, and whether or not any of the parts are dishwasher safe.
How Much Food Prep Will You Have to Do?
Consider how much food preparation is required before juicing. Can you put whole fruits and vegetables in the juicer, or do you have to chop and peel them first? This will affect your preparation time.
Alright, let's get specific about the Breville Juice Fountain Elite.
Breville Juice Fountain Elite Juice Quality and Yield
Here is where we have to start. If the juice quality isn't good, there's no point in reading any further.
According to Breville, the Juice Fountain Elite extracts up to 30 percent more juice and 40 percent more nutrients than other juicers.
Breville 800JEXL's patented system of central loading down the axis of the filter basket allows it to extract the highest amount of juice in comparison with other fast juicers on the market.
I notice this most when I check the leftover pulp. It's not completely dry, but it's not damp to the touch. This means that you're getting the most juice yield possible.
You will get some foam along with your juice. But this is a centrifugal juicer, so some is absolutely going to happen. This one produces less foam and oxidation than other juicers I've had in the past, and the juice quality is amazing.
And the juice isn't warm, especially for a centrifugal juicer! It preserves the vitamins, minerals, and enzymes in the juice even at high speeds. You get amazing juice that can be stored for up to 24 hours in the fridge.
Again, that's a big deal. I make enough for two juices and save one for the next day.
Breville Juice Fountain Elite Features
1,000 watt motor
2-speed electronic control
Dimensions (W x D x H): 12″ x 13.1″ x 10.6″
17.2 pounds (yes, it's heavy, but it's not going to move around while it's working)
Extra-large container
Dishwasher safe components
Overload Protection Button
3″ Feed Chute
Pros – What I LIke
1,000-watt motor that spins up to 13,000 RPM
Durable construction and commercial performance
Safety locking arm
Dishwasher safe parts
Overload protection
Extra-wide feed chute
BPA free plastic parts
Extra-large juice jug and pulp collection bin
External pulp ejection for continuous juicing
Two speeds (low and high)
High juice yield
Makes juice fast
Easy to use
Easy to clean
This is one of the most well-built and durable juicers on the market. Yes, it's heavy, weighing in at 17.2 pounds. It's not so heavy that you're going to avoid using it, but definitely showcases how sturdy it is.
Everything about this juicer is built with intentionality.
Heck, even the power plug has a hole in it so you can pull it out of your sockets easily with just a finger.
Breville built the parts of the juicer that are most exposed to juice out of brushed steel so they won't stain.
The pour spout has an anti-foam ledge (kinda cool) and it fits neatly into a circular section in the juice jug so that you don't get splatter all over your clothes.
The pulp and juice containers have rounded edges so that pulp and juice don't dry and get stuck in corners. Just another reason this thing is so easy to clean!
The juice jug has graduation marks for every 2 ounces so you know exactly how much juice you've made (if that matters to you…I just try and make a ton!).
Everything about this juicer is high quality. All the way down to the cast steel housing, Italian stainless-steel micro-mesh filter, and titanium-plated cutting disc.
Basically, Breville has been around a long time and they've continuously updated their products to make them better and better.
Let's get specific.
It's Easy to Assemble Out of the Box
The juicer comes pre-assembled, almost the same way you'll store it in your cabinets. Just get everything out of the box, clean the parts that are going to touch your food, and you're good to go.
It's Easy to Use
It takes me less than a minute to set up each time I want to use it. That's what really matters. I don't want a whole bunch of parts that I'm going to have to figure out.
Everything falls quickly into place and you can just get started whipping up your latest creation.
It comes with a nice booklet that is loaded with everything you will need to know! It has:
tips for assembly
tips for use
tips for disassembling and cleaning
nutrition facts for different fruits and veggies
which speed selection to use for different foods
10 pages of recipes!
This juicer is both high quality and easy to use, which means you'll use it often.
It's Easy to Clean:
This is huge.
The juicer cover, stainless steel filter bowl, puree disc, and juice jug are all safe to go into your dishwasher. This makes everything super easy to clean.
I usually don't put them in there because washing them is actually pretty quick and easy. But it's nice to know I have the option on days that I'm running short on time. Or just feeling a bit lazy.
The strainer is the part that can take the longest. But if you wash it out right away it's incredibly fast. Dump any pulp that is left behind in the cutting disk and strainer into your garbage can, rinse it quickly with water, and then scrub it down with some warm water, soap, and the provided brush.
Seriously, it takes about 30 seconds to do.
There's even a secret trick in the instruction manual that tells you how to eliminate one more item to wash. Line the pulp container with a produce or plastic bag! All you have to do after juicing is take out the bag and all of the pulp will be there!
I use the same produce bags that I buy fruits and veggies in at the store. If I'm not going to save the pulp (I've got some tips on that later!), I just throw the bag away.
There is one part of the juicer that can be a bit of a pain to clean. There is a corner in the lid where pulp always hides. This isn't a big deal if you clean it right away. But if you let it sit, this little section can give you some fits.
Breville did design the brush that is intended for cleaning the blade with an end that specifically fits this area, though. So as long as you get to this pretty quickly after juicing, it's not an issue at all.
All in all, clean-up takes maybe 3 minutes. That's it.
Professional Power in a Personal Package
The 1,000-watt motor spins up to 13,000 RPMs. Why does this matter? You get up to 30 percent more juice than traditional home-use juicers.
We're talking professional-league power here.
The juice made by this juicer is delicious! And the motor gets it done fast!
Not only do you get more juice than weaker juicers, but you'll be able to juice all the hard fruits and veggies you want without slowing down, and your juice will still come out nice and smooth.
I make ginger shots most days of the week, and my favorite juices use carrots and apples as base ingredients.
The Breville shreds through whole carrots without advanced preparation in seconds.
But the part that surprised me the most was how cool the juice comes out. Centrifugal juicers notoriously make warm juice because of how fast the blades spin.
The juice isn't cold by any means (part of that definitely has to do with whether or not you are using foods from your counter or fridge), but it's not overly warm either.
All of the health advantages of cold extraction are preserved with this juicer.
Ultra-sharp Cutting Disks and a Micro-Mesh Filter
The Breville sports an ultra-sharp cutting disk and a micro-mesh filter with over 40,000 filtering pores.
Breville claims this unique extraction system will yield up to 30 percent more juice and 40 percent more vitamins and minerals.
I don't know about that. It's definitely better than cheaper juicers I've had in the past, so I'll go with their promise.
I get both a ton of juice and pulp that's nice and dry. And that's what I'm counting on. If the pulp comes out damp I know I'm not getting all of the juice that I could be.
Dry pulp means I'm getting maximum yield from my produce.
Simple Food Prep
I don't want to spend all morning cutting fruits and vegetables just so that I can juice them. If I'm going to have to do all of that, I'll just eat the food instead.
The Breville has a 3″ extra-wide feed chute. If your produce can fit, go for it! Long, skinny veggies fit in without pre-cutting, and most fruits and tubers I can just cut in half and toss in. This saves a ton of time!
Two-Speed Electronic Control
The low speed is designed for softer fruits and leafy vegetables. The high speed is intended for hard produce and denser fruits.
That's it. Just a two-way switch. Couldn't be simpler!
I start with softer fruits and leafy greens with the low setting, and then I crank it to high speed and finish my juice with the big boys, like carrots, apples, and beets.
Extra-large containers
I don't want to be in the kitchen all morning making 4 different juices for my entire family. I don't even want to juice every day. I'd rather make enough for everyone in one shot, or make enough that I have a second juice for the following day.
The Juice Fountain Elite has A 1.1 qt juice jug with a froth separator and 3.2 qt pulp container on the opposite end.
I don't have to worry about stopping to switch containers in order to get all of the juice I want.
I'm busy. You're busy. And making enough for two meals instead of one is one of the best ways to keep you eating healthy every day.
Overload Protection Button
I have two kids under 7 years old (at the time of this writing). Safety is extremely important to me.
Especially since I like to share my love of healthy food with my boys. I want them to enjoy the process of making healthy meals. I'm creating healthy foundations early.
And they love watching food go in and juice come out!
This juicer has a safety device that protects it from overheating. If it starts to get too hot, the juicer will automatically turn itself off.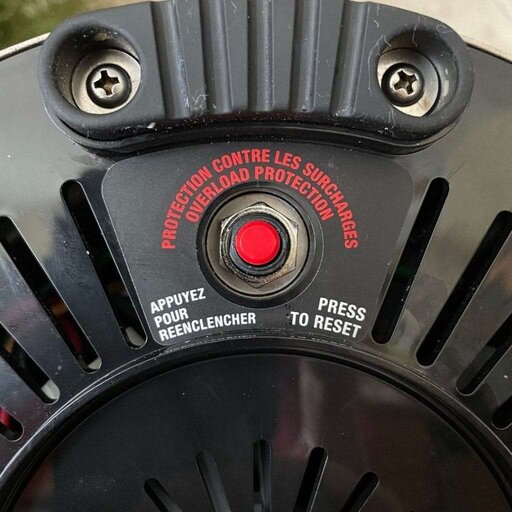 I've never had this happen. It juices so fast that the motor doesn't have time to overheat. But it's there just in case.
If it happens to you, don't worry. Let it rest for about 15 minutes and then find the Overload Protection Button on the bottom of the base. Reset and you're ready to go again.
Safety locking arm
While we're talking safety…
This juicer has a safety locking arm that holds everything in place. The unit won't work unless this is securely locked in place.
And this juicer is heavy, coming. in at 17.2 pounds. The weight keeps it from moving around while you're making your juice.
Warranty: One Year Limited
The following is taken straight from Breville's website.
All Breville® products have at least a one-year limited product warranty, valid from the date of purchase. Should your Breville® product have a defect in product material or workmanship within the Warranty period, Breville® will arrange to have your original product returned to us, and either deliver an identical or comparable replacement to you, free of charge, or apply such other remedy as described below.
Cons – What Could be Better
The highest setting is loud
A bit expensive – $$
Not efficient for juicing leafy greens
Takes up space
There is no perfect appliance. Each one is going to have some downsides. That's what reviews are for. To help you weigh the pros and cons and make an educated decision.
With that in mind, here are what I find to be potential drawbacks that you may want to keep in mind before forking over your hard-earned cash.
It's Bulky and Takes Up a Lot of Space
I'm not worried about counter space because I only have it out when I'm using it. I don't leave it on my counter.
But it definitely takes up quite a bit of space in my cabinet. The safety arm sits out to one side or the other, making it take up more horizontal space than I'd like.
And the machine is pretty tall when it's fully assembled. So you need to have enough clearance overhead when you're actually juicing.
None of this bothers me. I have a great spot in one of my cabinets, and I do my juicing on my island.
I'll definitely give up the little extra space to have a juicer that does everything I want.
It's Not the Best With Green Leafies
Leafy greens get juiced, but you don't get a lot of yield from them. Especially with soft green leafies like kale and spinach.
If your plan is to primarily juice leafy greens, this one might not be the best choice. In fact, you may want to go for a masticating juicer instead. Masticating juicers are much better with soft green leafy vegetables than centrifugal juicers are.
I rarely juice leafy greens. I usually juice heartier fruits and veggies like carrots, cucumbers, celery, apples, lemons, and pineapple. Oh, and my favorite…ginger shots!
I usually save leafy greens for smoothies.
When I have juiced spinach or kale in the past I notice that the leaves kind of flatten out and stick to the walls of the mesh strainer. This not only prevents the spinach from getting fully juiced, but it prevents me from getting all of the juice I normally can from other foods as well.
But I have a trick.
I never juice leafy greens by themselves. I like a good green juice, but I always add some robust veggies like carrots or celery, and usually some sweet fruits as well. I tightly wrap around them harder foods like carrots. The carrots help them stand tall and they shred far better.
It's On the Expensive Side – $$
The Breville Juice Fountain Elite can be yours for the low low price of just $299.00!
I'm kidding. $299 is a bit of cash to drop on an appliance.
This juicer is not cheap, but it's also not the most expensive. Juicers can pretty quickly get into the$700.00 plus range.
I've had cheaper juicers than this one. What I've found is that when I spend $100 on a juicer, I get a $100 juicer.
Less powerful, more frustrating because it doesn't give me as much juice as I'm expecting, and I end up having to replace them inside 18 months.
I'd rather save up and pay the extra money to get a product that's going to last and that I'm actually going to use.
It's Not Quiet
I don't expect a juicer, or blender or food processor for that matter, to be quiet.
This juicer is extremely fast, so it's loud on the high setting. Not so loud that I want to keep my kids away, but I'm not going to run it while my 3-year-old is sleeping either.
If you watch my video below where I'm making some ginger shots, you'll be able to hear exactly how loud it is on the highest setting.
I don't know. This doesn't bother me at all.
Leakage?
I saw a review on Amazon stating that their Breville was having minor leakage.
I've never experienced that, and I've only seen a couple of reviews that noted that.
Maybe keep it in mind, but I wouldn't worry too much.
The juicer comes with a one-year warranty. I figure any leakage that is going to happen will happen within a year.
My Verdict
I use the Breville Juice Fountain Elite every day, and I have for more than a year and a half.
It's made using stainless steel and titanium has an extra-large feed tube for minimal food prep, and makes delicious juice.
Breville claims that this machine yields 30 percent more juice and 40 percent more vitamins and minerals than other juicers. I'll take their word for it, based on the amount of juice I get each day.
It's incredibly easy to use and clean, which makes it an appliance that I'm good with using daily.
I have yet to run into fruits or vegetables that the juicer can't handle, and the potential downsides don't bother me. It's not overly loud, I have never noticed leakage, and I don't juice enough leafy greens to worry necessitate a more expensive, masticating juicer.
This isn't the cheapest juicer Breville makes, but it's not their most expensive either. I recommend this model to anyone that plans to juice regularly and wants a machine that will produce great juice and is built to last.
I'd buy another one in a heartbeat.
Fun Tip: What to do With Your Leftover Pulp
Even though juicing is amazing for extracting vitamins and minerals and giving you a great, easy-to-digest, energy-boosting meal, it does have one major drawback…
You lose all of the fiber. That's your pulp!

Fiber is incredibly important, and only 1 in 10 Americans meet the recommendation for daily fiber intake!
Now that you have this leftover pulp, let's use it!
Here are some creative ideas that your family (even your dog!), will love, and will give you even more benefits from your new juicing habit.
Smoothies
Add pulp from your juicing process to smoothies! You'll get all those extra nutrients and fiber. The pulp will also thicken your smoothie, creating a delicious, milkshake-like texture.
Pulp Popsicles
Take your leftover pulp, combine it with a little bit of the juice, and pour them into popsicle molds or an ice tray. Depending on the juice you made, these can be incredible! And make a healthy treat for your kids.
Add to Homemade Granola
Homemade granola is amazing. Why not add a few more vitamins and minerals with no extra work? Use your favorite recipe and add about one cup of pulp for every three cups of oats.
Add to Homemade Hummus
I love homemade hummus! We eat it all the time. I use the Engine 2 No-Oil Hummus. Give that hummus a shot, and if you've just finished juicing, toss some of the leftover pulp in. You'll be pleasantly surprised.
Mix It Into Baked Goods
Extra moisture and fiber are required in some breads, cakes, muffins, and even cookies. Especially if you're making healthy versions! Adding the pulp from a sweeter juice can add both flavor and moisture.
Make Dog Treats
Maybe pulp's not your thing. But I bet your dog will love it! I've added the pulp to my dog's dry food instead of adding wet food (which I usually do), and she laps it right up.
But then I found a recipe for making homemade dog treats with the leftover pulp.
Preheat your oven to 275° F
In your food processor, mix all of the ingredients together. Add rolled oats until you've reached a nice batter consistency.
Shape the mixture into treats on a baking sheet and cook for 50 – 60 minutes.
Fruit Leather
Remember fruit leathers?!! They were one of the few treats my brothers and I got when we were kids.
Line a cookie sheet with wax paper or a silicone sheet like this one
Lay your pulp out evenly on your baking sheet and press it thin
Set your oven to its lowest setting for 12-14 hours. Or use a dehydrator if you have one.
See it in action
Don't just take my word for it, watch this demonstration video from Breville, with some awesome tips for using their machine.
Or watch me make up a ginger shot while I talk a bit about my Breville.
See your buying options at Amazon →
Similar items to consider
There are other juicers on the market. I recommend this one because it's the one I own and use. It's hard to recommend others because I haven't used them.
And I definitely wouldn't recommend any of the cheaper versions I've owned in the past. Because I wouldn't buy them again myself.
But here are some other juicers out there that have solid reviews.
The Jocuu Slow Masticating juicer is a good machine that won't break the bank.
This single-auger, horizontal juicer has two speeds so you can adjust to process a range of foods, and it includes a reverse mode to prevent clogs.
Breville Juice Fountain Elite Frequently Asked Questions
What kinds of produce can the juice fountain elite process?
The Juice Fountain Elite can handle most types of fruits, vegetables, and tubers. It can handle leafy greens, but not as well as other fruits and vegetables.
What kind of juicer is the Breville juice fountain elite?
The Breville Juice Fountain Elite is a centrifugal juicer.
Can you make smoothies with a Breville juicer?
No. Juicers are designed to separate the water in fruits and vegetables from the skins, seeds, and fiber. Smoothies pulverize the same foods, but retain all parts of the foods. I include both smoothies and juices in my diet regularly.
Can juicing help you lose weight?
Juicing as part of a healthy diet can help you lose weight. I strongly suggest you avoid juice fasts, cleanses, and detoxes. Instead of thinking about what you need to take out of your diet, think about what healthy foods you can add. This is where juicing can make a huge difference, and help you create healthy habits, which may include weight loss.
Breville Juice Fountain Elite Conclusion
If you're looking for a high-quality juicer that is built to last, this is your new toy! It's powerful enough to handle any produce you'll throw at it, is incredibly easy to clean and use, and won't break the bank.
I was in your position not that long ago. And more than once! I've owned my fair share of cheaper juicers that didn't work that well and gave out a year in. I just use them too often and I'm not going to avoid foods I want to juice because maybe the machine can't handle it.
So I can be hard on appliances.
When I was shopping I knew exactly what I wanted, and I saved to make sure I got a machine that would last.
For the best price, check out the product on their Amazon page! And you can get awesome deals there too. So, what're you waiting for? Buy one Brevile 800jexl now and juice for years!
I hope my Breville Juice Fountain Elite review gave you a clear idea of what to look for in your next juicer.
The bottom line is, if you can spend some extra cash and you're on the hunt for a juicer that is going to last, that cleans up easily, and gives you a ton of juice, here it is!
Pick one up. You won't be disappointed.
Got any other ideas for what to do with your leftover pulp? Let me know!