I'm an athlete. Always have been, plan on always being one. I don't plan on ever slowing down. And I love protein powder. That didn't change when I chose a vegan lifestyle. The only thing that changed was the kind of protein powder I chose. Suddenly I was looking for vegan or plant based protein.
I have some favorite expensive brands. Vivo Life's powders are absolutely amazing! But I'm not drinking them daily. Not at the rate I go through them. My daily protein shakes are made with more inexpensive brands that still taste great and have good profiles.
I love the Orgain Simple Plant Protein Powder. Especially the Creamy Vanilla flavor. It's delicious, has a very easily digestible, whole food protein as its base, and has very few ingredients.
I also drink their Protein Powder with Super Foods, but I like this one better.
Orgain Sipmle is my go-to, everyday, protein powder of choice. With this post, I'll explain why.
About Orgain Simple Plant Protein Powder
Orgain Simple Plant Protein Powder is a delicious organic plant-based protein powder made with only whole foods like organic almonds, chia seeds, and golden peas. It's sweetened with coconut sugar and has no thickeners or gums. Orgain Simple is free of dairy, soy, and gluten, and is lightly sweetened with coconut sugar.
It's also Climate Pledge Friendly. Climate Pledge Friendly uses sustainability certifications to highlight products that are committed to helping preserve the natural world.
Highlights
20 grams of certified organic plant-based protein made from just a handful of high-quality ingredients
All 9 essential amino acids are well covered
Made from Organic almonds, peanuts, chia seeds, pumpkin seeds, and golden peas
Certified USDA organic and non-GMO
Certified vegan and Kosher
Free from dairy, gluten, soy, and lactose
No artificial colors, flavors, or preservatives
Sweetened with Organic Coconut Sugar
Incredible Flavor!
Climate Pledge Friendly
Full Ingredient List
Organic pea protein, organic peanut flour, organic pumpkin seed protein, organic almond protein, organic chia, organic coconut sugar, organic flavor with other natural flavors, sea salt.
That's it. Everything you need in a protein powder, nothing you don't.
That's a big part of why I like it. I don't need a thousand different superfoods. I eat fruits and veggies, and I have a favorite Greens Powder that I love. I want protein. I want a powder that sticks to what it's good at.
Too many protein powders split their efforts between protein and trying to stuff in everything else they can think of. This either drives up the cost, you get cheaper ingredients, or you get such a small amount of each thing that it's not even worth it.
Just give me protein.
How Does Orgain Simple Compare to Similar Protein Powders?
Orgain Simple Plant Protein Powder has very few ingredients and it's sweetened with organic coconut sugar. A lot of the comparable protein powders on the market either have more sugar to sweeten them, or they use artificial sweeteners like Stevia. And there are no gums or fillers!
Artificial sweeteners and gums aren't inherently terrible. Most people tolerate gums just fine. In fact, acacia and guar gum have actually shown some anti-inflammatory properties! (1) But they have the potential to cause digestive distress if you have IBS or IBD.
And the only real concern with artificial sweeteners is that they can cause low blood sugar at subsequent meals when you drink zero-calorie sweetened beverages. Which can make you hungrier than if you didn't drink them. Learn more about the research behind artificially sweetened beverages here.
Now, coconut sugar is not really any healthier than refined sugar, but it's 100% vegan. Coconut sugar is never processed through bone char, so that eliminates a worry for strict vegans. The amount of coconut sugar is minimal. 5 grams per 2 scoop serving. And I'd rather have the real thing than the artificial sweeteners.
Organi Simple is also higher in fiber than most protein powders. 9 out of 10 people don't eat anywhere near the current fiber recommendation (even at the ridiculously low number it's currently set at of 35g each day). (2) So any time you can get a little extra fiber is a big thumbs up, and the fiber will slow the digestion of the coconut sugar. Bonus!
It isn't super high in carbohydrates. Most whey protein powders will be closer to zero grams of carbs, which is great if you're keto. But the 10 grams of carbs in this powder isn't going to bother most people. Remember, carbs are your body's and your brain's preferred fuel source. If you're active, you need carbs!
Best Flavored Protein Powder for the Price $
Orgain Simple Organic Plant Protein Powder comes in three flavors: Creamy Vanilla, Creamy Chocolate, and Peanut Butter. All three are delicious!
I almost always buy the Creamy Vanilla. But that goes for almost all protein powders I buy. If I had all the money in the world I'd just buy up and keep every flavor from my favorite brands easily on hand in my cupboard. For whatever mood may hit.
But I don't, so I buy the flavor that goes with any application I may want. Vanilla is good in protein shakes, smoothies, and added to baked goods. It provides a nice flavor but doesn't change things too much.
I use this powder to make Proatmeal every morning. And vanilla is just way better in oatmeal than chocolate. I also make banana nice cream most nights. Same thing. Vanilla adds to the flavor. It doesn't completely change it to something different or overpowering like chocolate or caramel.
Both of my personal recipes are at the bottom of this article!
What Are the Negatives?
The FDA doesn't regulate the supplement industry. For the most part, you are taking the word of the manufacturer that what is on the label is actually what is in the product. And in the amounts they specify.
NSF International is a third-party lab that offers certifications that help protect food, water, consumer products, and the environment. This is incredibly important for athletes. Each sports organization has its own list of banned substances, and as an athlete, you are wholly responsible for what you put in your body. NSF-Certified products are as close to a guarantee as you will get in the supplement industry that what you're buying is legitimate and there aren't any banned substances in it.
For the rest of us, it's just nice to know that what we're paying for is what we're getting.
Orgain lacks the NSF certification. So, along with the vast majority of supplements, you're taking a gamble. Still, it's just an organic protein powder. And there are so few ingredients I'm betting on them being legitimate.
Useful Supplement Shopping Tips
There are several vegan protein powders on the market, each with its own unique taste, texture, and composition.
Always check the ingredient list on any supplement you're looking to buy. Most supplements have a ton of ingredients, so look for those that have the most of what you want and the least of what you don't need.
You should also look for supplements that have the least fillers, preservatives, and artificial flavors or sweeteners. All of these are inevitable in the supplement industry. They make products shelf-stable for long periods of time, cut down on costs (hopefully some of that savings passes on to consumers as well), and help manufacturers meet calorie, macronutrient, and micronutrient goals.
Just try and find the ones that have the least of these additives.
Finally, look for brands that are transparent about their practices and products that have undergone third-party testing. These qualities will help you support brands that align with your own personal standards and will help ensure the potency and purity of supplements.
My Personal Protein Oatmeal (Proatmeal) Recipe
I eat this oatmeal almost every morning. It's loaded with calories, healthy fats, complex carbohydrates, and protein. Everything you need to keep you going for a good long while.
And it tastes amazing! Almost too good. Give it a shot.
Ingredients
1 3/4 cup vanilla soy milk (1 1/3 if using steel cut oats)
1 cup rolled oats (dry measure) or 1/2 cup steel cut oats (dry measure)
1 scoop Orgain Simple Organic Plant Protein, Creamy Vanilla (one serving is actually 2 scoops, but I only put in one)
2 Tbsp Adam's Peanut Butter
1 tsp cinnamon
1/4 tsp turmeric (yep! Explanation below)
1/4 tsp black pepper (yep again! Explanation below)
1 Tbsp (10g) chia seeds
70g frozen blueberries
Directions
Cook the oatmeal in soymilk on your stovetop (or your preferred method) – keep an eye on it or the soymilk will overflow all over your stovetop! Stir often.
While it's cooking, add all of the other ingredients except the frozen blueberries to a bowl.
Add the frozen blueberries to your bowl just before your oatmeal finishes cooking so that they're nice and frozen when you pour the oatmeal overtop.
Pour your oatmeal overtop of the ingredients in your bowl and stir to mix
Enjoy!
Notes
Turmeric is a potent antioxidant and has anti-cancer and DNA preparing capabilities due to its curcumin content. I don't add this to my oatmeal for flavor. Everyone should eat 1/4 tsp turmeric every day, so this is where I put it. You won't taste this in our oatmeal at all. (3)
Turmeric only has 3% curcumin. Pepper boosts the amount of curcumin found in your blood after eating turmeric by up to 2,000%. Again, you won't taste this in your oatmeal at all. (4)
Substitute chia seeds for flaxmeal or hemp hearts if you want.
Substitute soymilk for almond milk, hemp milk, or other dairy free milk of your choosing. I like soymilk because it's thick, delicious, and loaded with protein. Soy is also protective against breast and prostate cancer and has anti-estrogenic properties. I always choose organic soy because soy is a very heavily sprayed and GMO crop. And look for soymilk that is fortified with calcium and B12. Especially calcium!
Shredded coconut is great on this as well!
My Personal Sweet Cherry Banana Nice Cream Recipe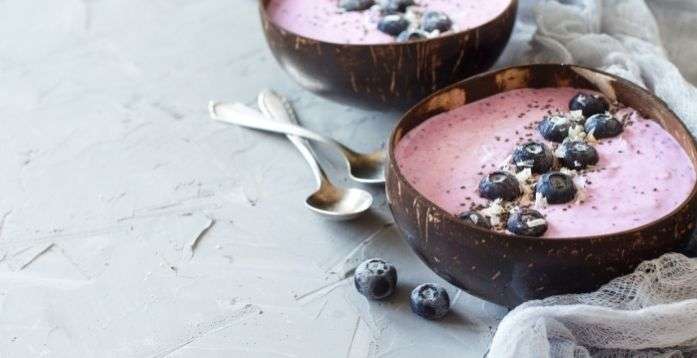 This is like a cross between ice cream and a protein smoothie. The way I make it has a lot of calories, but it's also incredibly healthy. And I will choose this over other sweets any day of the week. This hits my sweet tooth without being full of sugar, and it's something I can eat every night as long as my calories allow.
Ingredients
150g frozen bananas
140g frozen sweet cherries
2 Tbsp Adam's peanut butter
40g pitted deglet noor dates
1/4 cup vanilla soymilk
1 scoop Orgain Simple Organic Plant Protein, Creamy Vanilla (one serving is actually 2 scoops, but I only put in one)
1 Tbsp unsweetened shredded coconut
10g cacao nibs
Directions
Add everything except the cacao nibs and shredded coconut to a food processor and process until it reaches your desired consistency. I like mine a little bit chunkier. If you like your smooth, just keep on processing.
Transfer to a bowl and top with the shredded coconut and cacao nibs. Mix them in and enjoy!
Notes
You can add everything to your food processor and blend it all at once, but I like the texture of the coconut and cacao nibs unblended.
Add hemp hearts, flaxmeal, or chia seeds to up the calories, protein, and healthy fat content if you want.
Substitute the sweet cherries for frozen blueberries, strawberries, or mango! All are amazing!
I freeze the bananas by cutting them into roughly 2-inch chunks. Place them in Zip-Lock baggies and leave them in your freezer for at least 24 hours. They freeze faster and blend much easier this way!
I buy a ton of bananas every time I go to Costco. I let a few bunches sit and ripen. Not until they're completely brown, but sweeter than I want to just sit and eat. Then I cut them up and put them in baggies in the freezer so that I have them on hand for any night I want to make a nice cream.
Frozen bananas are really hard on blenders. I used my Vitamix 5200 for years to make these. And it handled them like a champ. I finally broke down, did a ton of research, and bought a Breville Sous Chef Food Processor. It's one of the best purchases I've ever made. It handles everything I throw at it with ease. Makes my life so much easier!
And it gives my Vitamix a nice break after years of abuse. Now I just make smoothies with it and call it a day.
Orgain Simple Organic Plant Protein Powder Conclusion
Orgain Simple Plant Protein Powder is a healthy vegan protein powder that can be used to create delicious and nutritious recipes. It has the perfect amount of sweetness so it doesn't taste artificial or chalky like some other plant-based powders do. With 20 grams of organic whole food protein per serving, this product provides an excellent source of amino acids for building muscle mass, helping you recover from workouts, and maintaining your lean muscle if you're trying to lose weight.
To learn more about some of my other favorite supplements, including how to build your own incredibly effective, super cheap pre-workout supplement, read about My Favorite Supplements here.
Have you tried Orgain? What's your favorite flavor?
References
Jhundoo, Henusha D et al. "Anti-inflammatory effects of acacia and guar gum in 5-amino salicylic acid formulations in experimental colitis." International journal of pharmaceutics: X vol. 3 100080. 24 Apr. 2021, doi:10.1016/j.ijpx.2021.100080
9, June, and ASN Staff. "Most Americans Are Not Getting Enough Fiber in Our Diets." American Society for Nutrition, 9 June 2021, https://nutrition.org/most-americans-are-not-getting-enough-fiber-in-our-diets/.
"Turmeric." NutritionFacts.org, https://nutritionfacts.org/topics/turmeric/.
Greger M.D. FACLM, Michael. "Why Pepper Boosts Turmeric Blood Levels." NutritionFacts.org, 5 Feb. 2015, https://nutritionfacts.org/2015/02/05/why-pepper-boosts-turmeric-blood-levels/.