People often think of tofu and tempeh as the only meatless options available, but seitan is also a great choice. It can be harder to find than other plant-based protein sources, simply because it's not as well known. Funny thing though, you have probably eaten more seitan than you know! Many of the most popular mock meats are made primarily from vital wheat gluten, which is seitan! Here are some places you'll be guaranteed to find it:
natural food stores
health food co-ops
large-chain grocery stores
online
Table of Contents
What is Seitan?
Seitan is, seitan. It's a meat replacement made from wheat gluten. Sometimes called vital wheat protein, it's a nutritious food that is high in protein and minerals while low in carbs and fat.
Before we go any further we need to talk about the types of seitan. For the purposes of this article, I am breaking seitan into two basic categories: seitan as a product all by itself (kind of in a loaf like tofu or tempeh) and products made with seitan (also known as vital wheat gluten or vital wheat protein) as the primary ingredient.
You can find both types of seitan in the types of stores that I will cover in this article, but the easiest to find are products made with seitan, like Tofurky sausages and deli meats. Honestly, if I'm looking for seitan all by itself, I find it's easier to just to make it at home (one of the easiest things to make!).
Want to try? This recipe for homemade seitan is incredible!
Seitan's Nutrition Profile
Here is a breakdown of seitan's typical nutrition information:
Calories: 104
Protein: 21 grams
Carbohydrates: 4 grams
fat: 0.5 grams
Selenium: 16% of the RDI
Iron: 8% of the RDI
Phosphorus: 7% of the RDI
Calcium: 4% of the RDI
Copper: 3% of the RDI
Let's talk protein content first, since that's why most of us are eating it. Seitan contains roughly the same amount of protein as animal meat (a bit more actually!). One 3 ounce serving is going to net you about 21 grams of protein. For the sake of comparison, 4 ounces of animal meat comes in at about 20 grams.
The protein content in seitan may vary based on whether other ingredients like soy or legume flour were added. But it's not going to vary by much. It is also a good source of minerals like selenium and iron.
Seitan is also a great option for my low-carb friends out there, weighing in at only 4 grams per serving!
And, because seitan is made from wheat, it contains very little fat. One serving only has 0.5 grams of fat in it.
Again, be mindful that many store-bought seitan products may contain additional ingredients to improve the flavor and texture of the final product, so exact nutritional profiles will vary.
How Does it Taste?
Plain seitan is made from wheat gluten and water, so it has a very neutral taste that can take on the flavor of spices and seasonings easily.
The tough and chewy texture of seitan makes it a much better meat substitute than tofu or tempeh.
Since seitan is wheat-based, it can be a good vegan protein option for those with soy allergies or sensitivities.
However, because seitan is made from wheat flour it is an unsuitable option for people with gluten allergy or intolerance.
What I Like About Seitan
Most of the time I eat whole foods, so tempeh and tofu tend to be my go-to options. Or I make my own homemade seitan because it's so easy to do, I can season it up however I want, and I can control exactly what goes into it.
But when I want a good vegan meat substitute, seitan is the way to go. Not only does seitan have a chewier, heartier texture than soy-based products do, but I try and avoid soy protein concentrate and soy protein isolate as much as possible. Why? "Concentrate" and "isolate" mean that all of the fiber and nutrients have been removed and you are left with just the protein from the item. That seems ok, but the processing to create the isolate or concentrate leaves residue from chemicals and metals like hexane and aluminum. Also, the soybeans used to create the concentrate or isolate are almost always GMO.
Are GMOs healthy, or at least okay to eat? I don't know. We don't currently don't have enough long-term studies for science to tell us for sure either way, so I simply try and avoid them.
Should you always avoid soy protein isolates and concentrates? Well, eating any of these plant-based mock meats is healthier than eating animal meats. So if it's between eating an animal and eating a mock meat (even one with isolates or concentrates), it's mock meat for the win. I just wouldn't eat them every meal every of every day.
Trying to Eat Less Meat?
Seitan is a great way to go if you are trying to add more plant-based foods in place of the normal meats you eat. Seitan is a good source of protein, it's easy to prepare, and its texture is incredibly similar to animal meat.
Alright, on to the reason you're here.
What stores carry seitan?
Grocery stores are the easiest place to buy seitan. However, you may need to shop around a bit to find what you're looking for. There are three things that make seitan hard to find in grocery stores.
First, it's not that common a food to stock. Most grocery stores have some seitan these days, but only health food stores and large-chain grocery stores like Whole Foods Market have a good selection.
Second, it's rarely labeled "seitan." It is more likely labeled as some form of mock meat, so you may need to check labels (which my vegan and vegetarian friends out there most likely do like it's their job anyway). Vital Wheat Gluten is the actual ingredient that you are usually looking for when referring to seitan. These are the mock meat products I was talking about at the beginning of the article, and there are actually a ton of these!
Finally, vegan and vegetarian products can be hit or miss at most large-chain grocery stores. Stores definitely carry vegan products! But each store picks and chooses which types, brands, and favors they are going to carry based on which ones have been good sellers for them. Also, stores simply don't carry plant-based products in the same massive amounts that they carry "normal" products, so sometimes their stock of an item may be out until their next shipment.
I love both the Tofurky Italian Sausages and Beer Brats (both seitan products!). I can find the Beer Brats at Yoke's, my favorite local grocery store, but the Italian Sausages I can only find at Fred Meyer.
Below is some information about how and where to locate it in grocery stores, what it looks like so you can spot it easily, as well as where else it can be found if that doesn't work for you.
Here are the most common places to find it:
1. Natural Food Stores, Health Food Co-ops, and Health Food Stores
Head to a natural food store and take a look at their refrigerated section. They're going to have seitan for sale – either in the meat section or the dairy section. Look for packages that say "wheat gluten" on them as it will indicate how much seitan is actually included in that product. Sometimes seitan will be mixed with other ingredients like tofu to create different flavors
2. Grocery Stores That Focus On Natural Foods
Whole Foods, Trader Joe's, and Sprouts are just a few types of grocery stores that carry seitan. They're often in the meat or deli sections, so check there if seitan is not easily visible on shelves close to where you are shopping.
3. Chinatown/Asian Markets
Check your local International or Asian markets. You'll likely find it there. Look for packages with words like "wheat gluten" or "seitan" printed on them to help you locate it easier in this type of store. And, since these markets are typically small, finding someone to help is usually a breeze.
4. Big Nation-Wide Grocers
I have listed this fourth, but this is where I primarily purchase it. Yoke's Fresh Market is my favorite store! It's not a huge store but has a great Natural Foods section, located right by the product area, where all of their vegan goodies are kept. Here are the seitan products I regularly buy here:
Fred Meyer is another large-chain grocery store in my area. Typically I find Primal Strips Vegan Jerky Meatless Seitan in a variety of flavors (these make great high-protein snacks!) and Sweet Earth Chipotle Style Seitan Strips.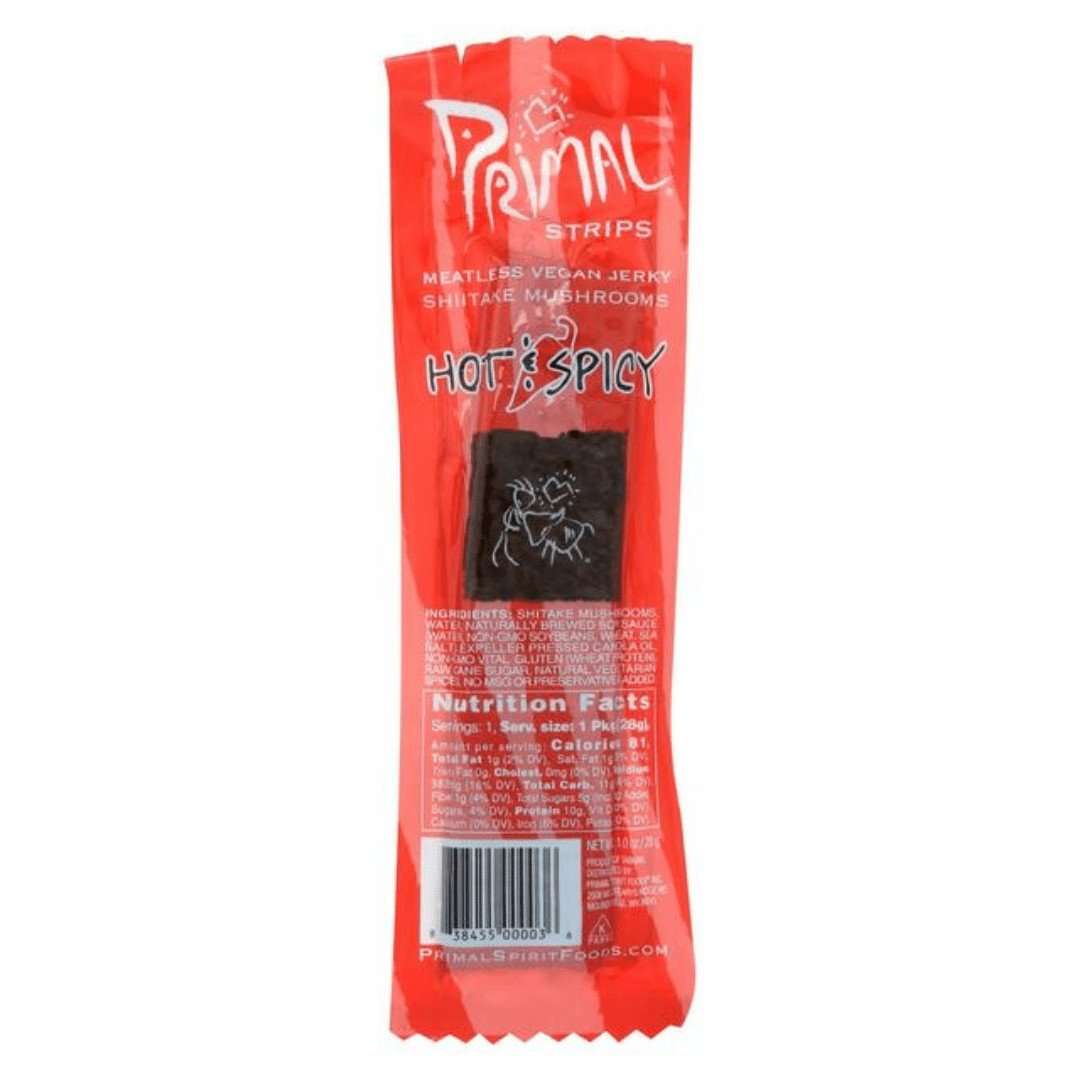 And, chances are, you've heard of Tofurky. I'm not talking about the absolutely delicious football-shaped loaf that makes an appearance during the holiday season (although I look every bit as forward to it showing up around Thanksgiving as a vegan adult as I did Egg Nog when I was a kid!), I'm talking about the general brand and the amazing products they make. Pretty much every large grocery store is going to stock a Tofurky product or two. I love their sausages and deli meats!
5. Online
If all else fails, go online. Even Amazon.com is in the game, with a whole bunch of options.
Where To Buy Seitan In Bulk
I know not everyone is lucky enough to have a seitan product available at their local market. Some people are seitan-only shoppers! If you fall into this category, then I'm sorry to deliver the bad news but seitan is going to be really hard for you to find in bulk. But don't lose hope just yet! You may still have luck :
Whole Foods and other Natural Food Stores that carry seitan have it sold by weight/quarter or half-pound package. Hopefully, they will also sell it by the pound if you ask them nicely or show up right when they open in the morning (which is what I do!). Also, take a look at their freezer section – some stores now sell frozen seitan which means it's seitan that you can buy in bulk.
Where To Find Seitan In The Grocery Store
Ok, we've talked about what stores you will likely find seitan in, so let's cover where to look once you're inside.
If the Store Has a Natural Foods Section…
Bingo! This is typically where they are going to keep all of their vegetarian, vegan, plant-based products and various mock meats. Most often these will be in their refrigerators, near the tofu and tempeh, or eggs and dairy.
Check Along the Edge of the Produce Section
Sometimes I find seitan products here as well.
A Mock Meat By Any Other Name
One thing you're going to need to get used to in your search for seitan is that it's so often not labeled "seitan." Here is a list of possible seitan aliases:
Wheat meat (I'm still not sure how I feel about this name…it's either absolutely awesome or super troubling)
Meat substitute (a common seitan label)
vegetarian roast beef/turkey/chicken substitutes
Plain seitan doesn't actually have an official alias. It will be called seitan or seitan roast, but look carefully because it may be mislabeled as seitan flavored, seitan seasoned, or seitan stuffed with a choice of filling.
If you don't see any of the above monikers, don't lose hope yet! Go check any and all of the plant-based meat substitutes and look at the ingredients list. If the first ingredient you see is Vital Wheat Gluten, you're in the right spot.
Conclusion: Where to Buy Seitan
Seitan is a popular vegetarian option that can be found in most grocery stores. Follow these guidelines the next time you're at the store and add a new, incredibly tasty protein to your arsenal!
Oh, and since you're here looking for seitan I'm assuming that you're already pretty comfortable with tempeh and tofu. But just in case you're not and you'd like to know where to find these vegan protein staples, check these resources here: Where to Buy Tofu and Where to Buy Tempeh.
FAQ
Where do you buy seitan?
Small neighborhood health food stores and co-ops almost certainly have seitan, as well as many large-chain grocery stores.
What is Seitan?
Seitan is a uniquely chewy plant-based meat alternative made from wheat gluten.
Where do I find seitan in the store?
Seitan is almost always stocked right next to the tofu.
What is a vegan meat alternative?
Vegan meat alternatives are plant-based products that are meant to resemble the taste and texture of meat. Almost all vegan meat alternatives are either made from soy or vital wheat gluten (the main ingredient of seitan).
What are the ingredients in seitan?
Plain seitan is made simply of wheat gluten and water, so it has a relatively neutral taste and can take on the flavors of sauces and other seasonings well. Many seitan products you find in the store have additional ingredients added to them for flavor or to imitate various meats.
What is the protein content of seitan?
Calories: 104 Protein: 21 grams Selenium: 16% of the RDI Iron: 8% of the RDI Phosphorus: 7% of the RDI Calcium: 4% of the RDI Copper: 3% of the RDI.