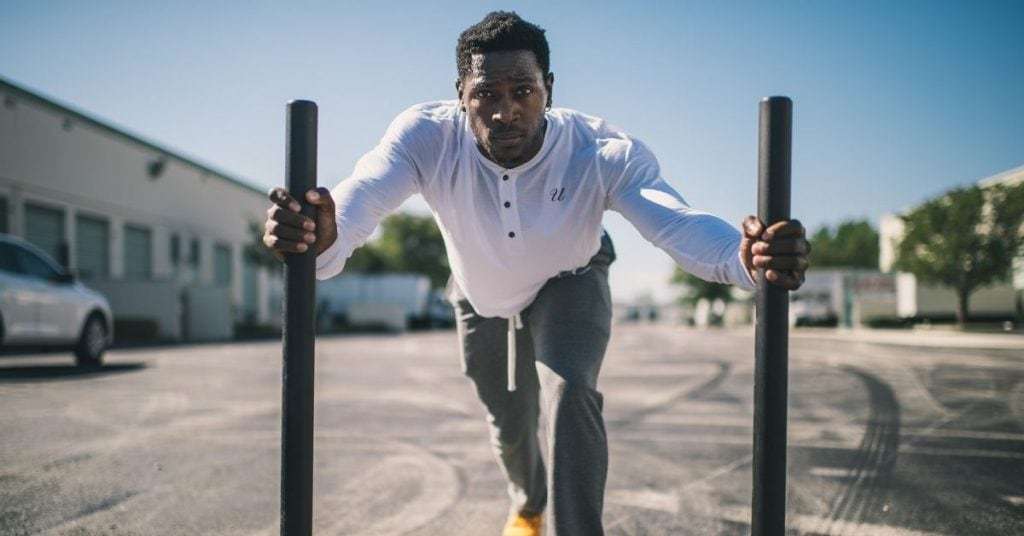 You train hard. It's important to make sure that your tendons and ligaments are healthy and taken care of. We do this through weight training, mobility, and of course, food. All the training and mobilizing in the world aren't going to work if you don't have the nutrients your body needs to recover and repair.
The following supplements are vegan collagen boosters that can give you the protein and amino acids your body needs to repair itself, recover from training, and reach peak performance.
I did the research for you and here are the best vegan collagen supplements on the market today.
My Picks at a Glance
Table of Contents
What is Collagen?
Collagen is made up of 19 different amino acids, produced by our own bodies. It is especially high in lysine, hydroxyproline, glycine, and proline. The abundance of hydroxyproline is noteworthy because, while it isn't an essential amino acid, it isn't found in other proteins. (1)
Collagen provides the structure for things like skin, bones, joints, and muscles. It is the most abundant protein in our bodies, making up 30 percent of our total body protein!
But we produce less as we get older. After the age of 25 or so, the production of collagen and other proteins begins to decrease.
You probably notice this most in the form of wrinkles or sore joints. Because collagen provides structure, as we age and produce less of it our skin gets less firm and more wrinkled, and our joints tend to ache a bit more than they did when were younger.
Collagen-boosting supplements may help slow and reduce the wrinkling of your skin, improve skin elasticity, help keep your bones strong, and protect your joints.
*spoiler – many animal-based collagen supplements do not work. I'll explain why after I discuss my favorite Vegan Collagen Builders. It's the best part of the article. Don't miss it.
What is Vegan Collagen?
Our bodies make their own collagen, we just get worst at it as we age. Vegan collagen supplements contain ingredients that help our bodies boost our own natural collagen production.
Most collagen supplements on the market are animal-based. Usually bovine collagen or marine collagen. Because the connective tissues of these animals are type 1 collagen, which is very similar to our own, the thought is that we can ingest it and it will help repair our own cartilage.
This doesn't actually work.
Scientists have instead been looking at how we can get our bodies better at making collagen as we age. This is why you will notice that vegan collagen supplements are called "boosters" or "builders" and not just collagen.
What Are Most Plant-Based Collagens Made Of?
First, there is no such thing as vegan collagen. The exact combination of amino acids present in collagen is not found elsewhere in nature. So plants don't make this collagen on their own for us.
The most potent plant-based collagen builder are:
Vitamin C is a potent antioxidant and essential cofactor for two of the enzymes needed for collagen synthesis. It also allows amino acids to absorb oxygen and hydrogen, allowing them to help in collagen production. (3)
Zinc is a cofactor in the production of collagen as well. (4)
Silica is found extensively in bones, tendons, cartilage, and collagen, and is usually sourced from bamboo extract. (5)
Hyaluronic acid is the key molecule involved in skin moisture. (7)
Amino acids. Especially L-glycine, L-proline, L-hydroxyproline, and L-lysine.
Proline, Hydroxyproline, and Glycine play an essential role in collagen breakdown and stability. Proline can be found in many vegan foods, but hydroxyproline is only produced from proline when in the presence of vitamin C. Another reason these need to be included together. Glycine is essential to creating strands of DNA and RNA in the human body and it helps stabilize collagen in the body. (6)
That's the cool part about vegan collagen boosters! We're giving our bodies what they need to make our own.
Vegan Collagen Booster Supplements
Collagen-boosters can be found as a powder, pill, chewable tablet, gelatin-free gummy, or as a creamer. Yep, for your coffee.
Powdered collagen-boosters are great when mixed into smoothies, to make proatmeal (protein oatmeal), or as a replacement for any other protein powder. These are also typically easily digested.
Pills, chewable tablets, or gelatin-free gummy are typically more difficult to digest than powders (not that you'll notice, but your body will have to work harder to break the food down). But they're super convenient! If you go this route, just make sure that the gummies don't have gelatin and that pills have vegetarian capsules.
Collagen-boosting creamers are intended to be added to your coffee, or other beverage of choice.
Sustainable Manufacturing: I always try and look for supplements that are sustainably sourced. There are so many supplements out there, and most of them are so close in taste and performance that the company and what they stand for will often help me make my choices.
Providing aid to local communities where ingredients were sourced, reducing carbon emissions, and planting trees are common practices of some of my favorite supplement brands.
Let's get to it! My list of the best vegan collagen-boosting supplements!
The Best Vegan Collagen Supplements
Here are my picks for the best vegan collagen builders on the market today.
FutureKind+'s vegan collagen booster is loaded with collagen-building ingredients, including 16 nutrients that support collagen production. Each serving has at least 100 percent of the daily value for vitamins A, C, and E, and they've added silica, biotin, and zinc to help your body make its own collagen.
The supplement includes three collagen-building amino acids: L-Glycine, L-lysine, and L-proline. Your body must have these to build collagen. It's also loaded with Bioperine, resveratrol, hyaluronic acid, and folate.
They source Amla Extract. Amla is an Ayurvedic herb that it supports skin hydration and is a potent antioxidant.
Bamboo Silica Extract is added for its ability to protect the skin against light-induced damage.
Aloe Vera Plant Extract contains polyphenols (remember I said these may be listed as another name for antioxidants). The polyphenols in Aloe Vera help inhibit the growth of infection-causing bacteria, which is why it's been used on skin wounds and burns for ages.
Grape Seed Extract improves blood flow and may boost collagen synthesis through its flavonoids.
FutureKind+ is a nutritionist-owned, third-party tested, 100 percent vegan supplement company. They prioritize sustainable packaging and their supplements come in glass bottles, not plastics.
They also don't hide the ingredients or amounts behind a proprietary blend. They are transparent about exactly what and how much is in every supplement they manufacture.
What Could be Better
This is a capsule, so you're not getting a ton of protein. You get a lot of collagen-building vitamins and minerals, as well as the key amino acids your body needs, but I like my collagen supplements to come with more protein. But these are super convenient! So I keep them in my pantry.
PlantFusion creates 100 percent plant-based products, so you know everything you're getting is vegan-friendly.
There's a lot to like about his collagen-building supplement.
Their amino acid mixture is great! L-glycine, L-proline, and pea protein for L-lysine are all here to help build collagen. Then they added glutamine and all three branch-chain amino acids which are necessary for building muscle!
And then they added alpha-galactosidase which helps with digestion. Especially for we vegans who love our beans! Alpha-galactosidase helps break down raffinose, the fiber in beans and legumes that cause gas and bloating.
This powder mixes well, but my favorite addition is tapioca powder. This helps make smooth, thick protein shakes and smoothies. They've also loaded it up with some great collagen-building nutrients.
OxyPhyte, an extract from white tea, helps protect collagen, and Vitamin C, amla fruit antioxidants, and hyaluronic acid all help the collagen-building process.
Made from a unique blend of Saberry amla fruit extract and amino acids
What Could be Better
Some of the reviews have said that people don't like the consistency. I actually like the thickness the tapioca powder gives. I say give it a shot.
Ora Organic makes 100 percent vegan, third-party tested supplements with ethically-sourced ingredients, and they're a fully transparent company. All of their products are also non-GMO and certified organic.
There are 20 servings in each pack of Ora Organic's collagen-boosting powder, and three different flavors to choose from vanilla, peanut butter, or chocolate. I actually like the peanut butter the best!
Here are the main collagen-boosting ingredients Ora Organics uses.
Organic Pea Protein, which is a very easily digested protein that is high in the essential amino acid L-lysine. Lysine is necessary for collagen production.
Acerola Cherry Extract is a West Indian cherry that supports immune function and is also a rich source of vitamin C, antioxidants, and B vitamins.
Organic Bamboo is the best source of silica of any plant. Silica is a powerful skin protectant. Bamboo is also rich in proteins, vitamins, minerals, and fiber.
Aloe Vera is high in vitamins A, C, and E, along with antioxidants.
What Could be Better
Ora Organic's powder doesn't have biotin or zinc. Check your other supplements before buying this one to make sure you're already getting enough of these important nutrients. If you aren't, look at one of the other options in this list.
I'm also not seeing the amino acids L-glycine or L-proline, which are important for collagen production. You may be getting them from a well-planned vegan diet, however, as these are non-essential amino acids that your body can make.
This collagen booster from Moon Juice is designed to help preserve your own natural collagen. They make their collagen protector from the Silver ear mushroom and Tocotrienols from rice bran solubles. Sodium hyaluronate rounds out this creamer's potent collagen mix.
This collagen product comes in powder form and is meant to be used as a coffee creamer or blended into smoothies. And it's absolutely delicious! Hey, if you're going to add creamer to your coffee anyway, might as well get some collagen-boosting ingredients with it!
Their product is dairy-free, vegan, soy-free, gum-free, gluten-free, filler-free, and non-GMO. So there's a lot to like about his collagen, and the company.
This is seriously one of the best-tasting products on the market. Even my kids like this one!
What Could be Better
There's no protein to this one, which means no collagen-building amino acids. Great products have both proteins and key vitamins, minerals, and antioxidants to give your body everything it needs to build collagen. Good products may have proteins or minerals. This one focuses on antioxidants and minerals, so make sure you're getting your protein elsewhere if you choose this one.
Garden of Life makes certified Organic, non-GMO, third-party-tested supplements and wellness products. They were bought out by Nestlé, which many vegans are not cool with. But they seem to have stayed to their original mission and are producing high-quality, organic supplements.
Their collagen builder is a rich mixture of collagen-building nutrients, including zinc, biotin, vitamins A, C, and E, and silica from organic bamboo extract. Their antioxidants are derived from green tea, amla berry, turmeric, and guava, and pomegranate provides necessary polyphenols.
This thing is loaded with two different antioxidant blends. One they call their beauty blend, and one is their organic food blend.
What Could be Better
They have loaded up a lot of vitamins and minerals, but there's no protein here. No amino acids to help with the collagen-building process. So you'll have to make sure you're getting all the amino acids you need elsewhere.
MaryRuth's is a family-owned company that makes a variety of organic supplements that are all vegan. I actually got turned onto this company when looking for gummy vitamins for my kids. I love every product I've gotten from them! They're not always the cheapest, but they are definitely worth the money.
Mary Ruth's vegan collagen gummy is formulated with vitamins A and C and the amino acid L-lysine, all of which help with the natural production of collagen.
They've also added amla fruit, which has been shown in studies to promote collagen synthesis, protect skin from UV radiation damage, and help with hair growth.
And their gummies are made with pectin, so they're vegan-friendly.
What Could be Better
Mary Ruth's is missing some collagen-boosting ingredients like biotin and silica, as well as the amino acids L-glycine and L-proline.
Rae Wellness produces affordable high-quality supplements that are non-GMO, gluten-free, and preservative-free. They are also third-party tested, which I love. There's just too much to distrust in the supplement industry, so I like brands that are transparent and want to prove their worth.
Their Collagen Boost has vitamin C, L-glycine, L-lysine, and L-proline to support collagen production and skin health. Each capsule also has bamboo for silica content and vitamins A, B, and E.
And with a price tag of $15 for a one-month supply, this is by far the most budget-friendly option here.
What Could be Better
Unlike many other collagen builders, this option lacks biotin and zinc. Make sure that you are getting enough of these important minerals from other sources.
Sunwarrior specializes in superfood and plant-based protein supplements.
This collagen-booster has 100 percent of the daily value for biotin and vitamin C. They've added silica and hyaluronic acid for skin hydration, and they included the amino acids L-glycine, L-proline, and L-hydroxyproline, which are needed for the production of collagen.
Pea protein is a smart addition because peas are high in the amino acid L-lysine. This rounds out the amino acids necessary for collagen production and boosts the protein content to 14 grams. That makes it a great protein-boosting addition to your vegan diet to help you recover from workouts.
And because Sunwarrior loves superfoods they've added tremella mushrooms, sea buckthorn, amla, spinach, and kale.
These are also collagen peptides, which means the long amino acid chains have been broken down into small chains that your body can absorb and use.
They have four flavors of powder including unflavored, vanilla, chocolate, and salted caramel. I haven't tried the unflavored (something about unflavored just sounds gross to me), but the other three flavors are delicious. The salted caramel is great in smoothies or as a stand-alone shake, and I like the vanilla and chocolate when added to oatmeal.
What Could be Better
Sunwarrior's powder lacks Vitamin A and zinc, which are powerful collagen-boosters. You may already be getting plenty of these from other supplements you take, so this might not be a big deal.
This is not certified Organic.
And I can't stand the taste. It's very popular, so people must like it. But neither my wife nor I can stand it. I actually gave the jug we had away after trying several different ways to prepare it.
9. Best Powder for Mixing With Water: Organifi Glow
Organifi's top ingredients are aloe vera, rose hips, and tremella mushrooms. Any three of these are amazing skincare ingredients. All three in one product? I'm sold!
This one is loaded with iron, calcium, and vitamin C, which are not only great for building collagen but important on a vegan diet. It's low in protein but only has 19 calories so it's great if you want to get in some collagen-building without tanking your calorie intake for the day.
What Could be Better
I like my collagen-builders to be higher in protein. This is a downside if you are looking for that as well.
Amazing Grass Glow is an organic collagen-boosting supplement that is packed with superfoods. It is certified organic, free from major allergens, and it's affordable.
Acerola Cherry is loaded with vitamin C and is an astringent which can help with digestive issues.
Rose Petals are also a rich source of vitamin C and have anti-bacterial properties.
Guava is packed with a wide range of vitamins and antioxidants.
But Amazing Grass also contains pea and brown rice protein, organic biotin, lemon, wheatgrass, and kale. This one comes in at 15 grams of protein per serving, and I'm all for getting in more protein where I can.
What Could be Better
It only comes in small, 15 serving jugs. Which means I usually buy two at a time.
Some people don't like the flavor, I've seen in some reviews. Personally, I love the chocolate rose flavor. They do use stevia for flavor, so it has a bit of an artificial flavor taste. But so many supplements use non-caloric sweeteners that I think I'm just used to it at this point.
What You Should Know About Animal-Based Collagen Supplements and Why Many Do Not Work
Animal-based collagen supplements are still protein supplements, whether they do what they state or not. In fact, that's kind of how you need to look at typical collagen supplements…simply as another protein powder.
And I get the want for collagen supplements! I was a competitive athlete, even into my late 30s and early 40s! I understand the incredibly toll competitive athletics wreak on your muscles, bones, and joints.
As a vegan, however, I'm not willing to take animal-based collagen supplements.
Meat consumption is responsible for 80 percent of rainforest deforestation, high levels of greenhouse gas emissions, and the inhumane treatment of animals.
But there's more to the picture here. Let's look at whether or not animal-based collagen supplements even work!
Protein is made up of combinations of amino acids. Collagen is a protein, and it is made up of more than 1,400 amino acids (yes, that's a lot!).
Before proteins can get into your bloodstream, they have to enter the cells lining the gut (known as the endothelium). These endothelial cells only allow protein of less than 3 amino acids to pass into the bloodstream.
So there is no way a massive collagen protein can fit! Remember, they're made up of more than 1,400 amino acids!
The collagen you ingest gets broken down into individual amino acids. And there's simply no way those amino acids will automatically regroup to form collagen and do all the wonderful things supplement manufacturers promise you. They don't remember what they used to be.
Think of it this way. Consuming collagen is like eating a puzzle that you're already assembled. You eat the whole puzzle, you chew it, you swallow it, and you break the puzzle apart into its individual puzzle pieces. Each piece is an amino acid. For collagen to be useful in its collagen form again you would need your body to put that puzzle back together piece by piece.
Good collagen supplement manufacturers know this, so they hydrolyze their collagen proteins. This breaks these incredibly long chains into small peptide chains that are 2 to 3 amino acids long. (1)
Protein structures are incredibly complex. All your body knows is that it has a large pool of amino acids to build the structures it needs to. And the amino acids from a whey protein powder, collagen supplement, or pea protein powder are all the same.
Your body will also use the amino acids that are most in need at the time of ingestion. If you have a wound to heal, muscle to build, or any of the normal metabolic processes that take place constantly, your body will pull those amino acids that it needs. It won't hold onto all 1,400 plus so that it can put collagen back together again.
And these collagen supplements focus on the amino acids that make up collagen, even if they are hydrolyzed (peptides). They don't usually add in the vitamins, minerals, and antioxidants that your body will need, along with the amino acids, to make collagen!
And the best part is, the few studies we do have on animal-based collagen supplements were paid for by the companies manufacturing the supplement! There are no studies to date showing any of the supposed benefits that were performed by unbiased third parties. None.
In fact, according to the EU's Health and Nutritional Claims Register, marine and bovine collagen claims have not yet been authorized as being proven to work (in the way they're claimed to).
Vitamin C makes the list, though!
Can animal-based collagen powders be taken in place of other animal-based protein powders? Absolutely. They are protein, after all. They are no better or worse.
Are Vegan Collagen Alternatives Better?
Plant-based collagen-booster cannot provide your body with a direct source of collagen. But we've just learned that those supplements may not work anyway. Instead, vegan collagen boosters promote the body's own production of collagen.
Along with providing the same amino acids as the animal-based versions, vegan boosters also load up on vitamins and minerals that are critical to collagen building and other areas of bodily health.
So you get the same amino acids, and then some!
Vegan collagen supplements are formulated with ingredients that are great for your skin, joints, tendons, and ligaments. Bovine collagen and marine collagen supplements are usually just made out of pure collagen.
The Benefits of Vegan Collagen
So what exactly are the benefits of choosing a vegan booster supplement as opposed to animal collagen?
Lower Risk of Allergies
Most vegan collagen supplements are made without the top worldwide allergens, including dairy, soy, and wheat. But there's a huge illness transmission risk with animal-based collagen supplements.
Collagen created in labs using yeast or bacteria would eliminate this concern.
Promising Health Benefits
Collagen helps support your joints, ligaments, bones, tendons, skin, hair, and nails.
Bone health: This is a huge aspect that most people don't think about. Bones aren't just made of minerals like calcium, they're also made of collagen. This is why collagen is so important for bone health.
Skin health: Collagen levels decline with age, beginning around the age of 25 (which is definitely not old!). This leads to the appearance of wrinkles and dry or sagging skin.
Hair and nails: Collagen is mostly found in skin, hair, and nails. Because our own natural production decreases as we age, our hair and nails can also become weaker with time.
Joint health: This is my favorite benefit! Collagen provides cushioning between our bones. If you're getting in years you know exactly what I'm talking about here! Lower collagen production means decreased flexibility, joint pain, and stiffness.
Arthritis: This is one of the areas that collagen has been used the most. It's what we do. We try and help those in need. Collagen may help reduce the swelling and uncomfortable symptoms associated with RA.
Gut health: Collagen supplements may be used to treat leaky gut syndrome, inflammatory bowel disease, and other gut health problems. Many people with IBD have low collagen levels in their blood, and researchers believe that increasing them might help.
But remember that the science is still rather young for collagen supplements. Researchers are working diligently to help us maximize our production of collagen and stave off any and all of these unwanted symptoms of aging.
New Vegan Collagen Boosting Science in the Works
Vegan collagen is now being made from yeast or bacteria that have been genetically modified by scientists. Scientists have found a bacteria called P. pastoris that is particularly good at making collagen.
To make this collagen, Scientists take four human genes that code for collagen and add them to the genetic structure of their yeast or bacteria. Once the genes are in place, the microbes begin producing the building blocks for human collagen.
At this point, a digestive enzyme called pepsin is added to help these collagen building blocks form into the same structure as human collagen.
Vegan collagen-boosters that use this technology will have other vitamins and minerals that our bodies need to create strong collagen as well. These include Vitamin C, Zinc, Copper, and various antioxidants.
What to Look For in a Vegan Collagen Supplement
There's no such thing as real vegan collagen. Not yet. They're working on it. Do not buy supplements that say they have real vegan collagen. You should see the word "booster" or "builder" (or some other similar derivative) in the name of the supp.
Every collagen supplement is going to be different, but they should contain a combination of the collagen-boosting nutrients mentioned above. Analyzing your own diet and looking for nutrients you struggle to get is a great way to make a personalized choice.
I also like to look for added antioxidants since they help collagen production. You may see these listed as polyphenols.
And choose reputable brands. Remember that the FDA does not regulate the supplement industry at all. Supplements are not checked for authenticity or safety by the FDA. This makes it very hard to trust any supplement. They are frequently mislabeled, have added ingredients not listed on the packaging, and are contaminated by germs, pesticides, or heavy metals.
You can start by looking for organic supplements that are transparent about how they source their ingredients.
Finally, remember that you can take too much of any supplement. If you're already taking three supplements, check to make sure you're not overdoing it on one or more vitamins or minerals. If all three have zinc, and now you add a collagen booster with a large amount of zinc, you could potentially take too much.
Here are a couple of other tips to help you find the best supplement for you.
How to Take Collagen Booster Powders
Start by experimenting with different flavors. Use my advice as a starting point, but find the ones you like the best. I always start with vanilla any time I'm trying a new supp. Vanilla is just so easy to mix into smoothies and oatmeal, even if it's not the best on its own.
I always start with just plain water or soy milk when I first get a new powder supplement. I want to know how well it mixes and exactly what it tastes like.
After that, I usually start adding it to smoothies or coffee. Yep, add protein powder or collagen powder to your coffee. The Moon Juice brand above is intended for that, and it's best that way, but try it with others. You'll be surprised how well it works!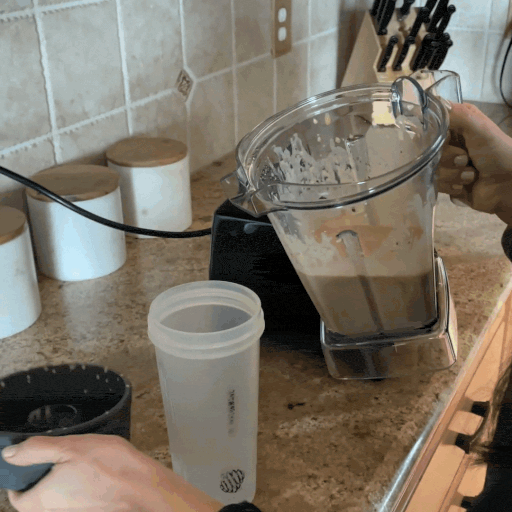 Adding them to oatmeal is my other go-to method. It's so easy to sit down with a bowl of oatmeal first thing in the morning, and spooning some collagen powder onto it is totally delicious.
Adding it to vegan protein pancakes is amazing as well! Or soups, fresh fruit bowls, mixed with nut butter or chia seed pudding…experiment and push the boundaries a bit!
Who Can Benefit From Taking Collagen?
Aging adults, those with joint problems, athletes and fitness buffs, and those with weak bones.
Collagen supplements may also assist with joint pain relief, according to a lot of studies. It can also help you have more mobility and, as a result, a better quality of life.
In 2016, a medical literature review revealed that hydrolyzed collagen had beneficial effects on patients with osteoporosis. The findings included the potential strengthening of mineral bone density and a protective influence on articular cartilage, as well as pain alleviation. (2)
What Are The Side Effects Of Collagen?
Other than allergic reactions, there are no known side effects at this time. And allergies are not going to typically be from the collagen amino acids, but from additives in the supplement.
This is why it is so important to read your labels and know exactly what's in any supplement you plan to take.
But in general, collagen supplements are well-tolerated and considered safe. Just follow the dosing instructions on the package and you should be good.
How much you can expect to spend on vegan collagen
Depending on the brand, the best vegan collagen costs anywhere from $20 to $45 per tube. The most expensive type of collagen will be produced from a prominent firm using the greatest components and will cost approximately double.
What Foods Are High in Collagen-Building Proteins, Vitamins, Minerals, and Antioxidants?
We're looking for protein-rich plant foods for building collagen. Especially whole plant foods that are high in the amino acids glycine, lysine, and proline, such as organic tempeh and tofu, beans and legumes, nuts, and seeds.
Vitamin C is found in a ton of fruits and vegetables, such as oranges, strawberries, and leafy greens.
Zinc can be found in lentils, hemp seeds, and pumpkin seeds.
Hyaluronic acid is found in a variety of foods including asparagus, prunes, carrots, soy-based products, lettuce, and leeks.
Learn more about the foods you can eat on a vegan diet to maximize your collagen production here.
Vegan Collagen Frequently Asked Questions
Do Vegans Get Enough Collagen?
There's no recommended daily amount of collagen that we need to get, and we don't need to get it from our diet. But a vegan diet can be very good at helping your body make its own collagen. Whole plant foods are high in antioxidants, minerals like zinc and silica, and vitamins like vitamin C, all of which help your body produce collagen.
What Are Vegan Collagen Peptides?
There are currently no vegan collagen peptides. We only have supplements that help your body make its own collagen. However, vegan collagen peptides are being developed. But studies on yeast and bacteria are promising, and will hopefully lead to true vegan collagen peptides.
Why Trust Herbivore Muscle?
I am a Certified Holistic Nutritionist with a degree in Food Science and Human Nutrition from Washington State University. For this roundup, I looked for vegan supplements that contain ingredients that studies have shown are associated with boosting the body's own natural production of collagen. My wife and I then tried each of these supplements so that I could give you both a professional and a personal opinion on each.
The Best Vegan Collage Supplements Conclusion
I hope this article helps you find the perfect collagen supplements for your needs.
Your body's natural collagen production needs a little help from time to time, especially as you age or if you are active. Or both! I never plan on slowing down, so I'll take all the extra help I can get!
There is no shortage of collagen or vegan collagen-boosters on the market, but they're not all they're cracked up to be. I think these vegan choices balance value and quality perfectly so that you can get all the benefits of collagen without compromising your vegan values.
Which one is your favorite? Any great ones that I missed?
*Author's Note: The content on this website is meant to be informative in nature, but it should not be taken as medical advice. The content of our articles is not intended for use as diagnosis, prevention, and/or treatment of health problems. It's always best to speak with your doctor or a certified medical professional before making any changes to your lifestyle, diet, or exercise routine, or trying a new supplement.
References
Santa Cruz, Jamie. "Dietary Collagen – Should Consumers Believe the Hype?" Today's Dietitian, Vol. 21, No. 3, P. 26
Porfírio, Elisângela and Fanaro, Gustavo BernardesCollagen supplementation as a complementary therapy for the prevention and treatment of osteoporosis and osteoarthritis: a systematic review. Revista Brasileira de Geriatria e Gerontologia [online]. 2016, v. 19, n. 1 [Accessed 24 January 2022] , pp. 153-164. Available from: https://doi.org/10.1590/1809-9823.2016.14145. ISSN 1981-2256. https://doi.org/10.1590/1809-9823.2016.14145.
Burke, Karen E. "Prevention and Treatment of Aging Skin with Topical Antioxidants." Skin Aging Handbook, William Andrew Publishing, 22 Apr. 2009, https://www.sciencedirect.com/science/article/pii/B9780815515845500120.
Seo, Hyun-Ju et al. "Zinc may increase bone formation through stimulating cell proliferation, alkaline phosphatase activity and collagen synthesis in osteoblastic MC3T3-E1 cells." Nutrition research and practice vol. 4,5 (2010): 356-61. doi:10.4162/nrp.2010.4.5.356
Martin, K R. "The chemistry of silica and its potential health benefits." The journal of nutrition, health & aging vol. 11,2 (2007): 94-7.
Wu M, Cronin K, Crane JS. Biochemistry, Collagen Synthesis. [Updated 2021 Sep 13]. In: StatPearls [Internet]. Treasure Island (FL): StatPearls Publishing; 2022 Jan-. Available from: https://www.ncbi.nlm.nih.gov/books/NBK507709/
Papakonstantinou, Eleni et al. "Hyaluronic acid: A key molecule in skin aging." Dermato-endocrinology vol. 4,3 (2012): 253-8. doi:10.4161/derm.21923