The Vitamix 5200 is a high-performance machine that blends better than any blender I've ever owned. Its motor powers through thick mixtures, it will handle anything you can throw it, and it comes with a seven-year warranty backed by excellent customer service.
The 5200 is the ideal Vitamix machine for the health-conscious vegan family or athlete. And it's suitable for both beginners as well as professional chefs. Get your own now!
Are you tired of your old blender? Or just want to make healthier choices, but it's hard to find the time and energy to always have to cook from scratch?
The Vitamix 5200 is a professional-grade blender that is designed for home use, so it can easily handle anything from smoothies and protein shakes to dips, soups, sauces, dressings, desserts, and more! It's the perfect kitchen appliance for anyone who wants to eat healthier and enjoy delicious food. Who has time for complicated recipes? Not you, that's for sure. You're too busy living your life.
With its powerful motor and patented design, the Vitamix 5200 will quickly become your go-to appliance for healthy eating. Plus it comes with a 7-year warranty. There aren't a whole lot of companies who stand behind their products that firmly.
Table of Contents
Vitamix 5200 Pros – Things You'll Love
Powerful – Can blend pretty much anything
10-speed variable control
Versatile – make everything from protein shakes and smoothies to almond butter and hot soups
Large batch container
Accessories – Vitamix continues to support this blender with new accessories
Easy to clean
Durable – it'll take a beating because it's built with quality parts
Excellent 7-year warranty.
Vitamix 5200 Cons – Could be Better
Noise – it's not the loudest blender, but it's not the quietest either
Cost – this is not the most affordable blender on the market
Blades are not removable – some people think removable blades would make it easier to clean
No pre-set programs
No pulse mode – but can still do pulsing jobs
Base and container are fairly tall – but you can buy low profile container
Vitamix 5200 Key Features
Colors: Black, White, or Red
Motor: 2.2 peak horsepower
Watts: 1,380
RPMs: 37,000
Electrical Ratings: 120 V, 50/60 Hz, 11.5 Amps
Dimensions: 20.5″ x 8.75″ x 7.25″ inches
Weight: 10.9 lbs or 4.7 kg
Container: Eastman Tritan Plastic, 64-ounce capacity
Cord Length: 6 feet
Warranty: 7 Years for motor, 1 year for other
Speed Control: 10-speed dial control
Cleaning: Self-cleaning
Variable and high-speed toggle switches
Blade: Non-removable, 4 Aircraft-grade industrial hardened stainless steel blades, 3 inches in diameter, laser cut for precision
Cooling: Radial cooling fan
Safety: Thermal protection system
Heating: Yes, friction heat
Tamper included
The Vitamix 5200 blender has a high-performance 2.0 horsepower motor, which is powerful enough to crush ice and pulverize the toughest foods. This is complemented by its stainless steel blade mechanism with 10-speed variable control, making it simple for the Vitamix 5200 to crush ice, grind bones, and achieve excellent outcomes.
Ice, juice, smoothies, soups, baby food, frozen desserts, nut butter, dough, dressings, and sauces…the 5200 can do it all! This blender is also great for crushing ice and making frozen fruit smoothies. Smooth and consistent every single time.
Some will notice the lack of presets with this model. Personally, I've had blenders with pre-sets and I never used them. I also have an Instant Pot, and I don't use the presets on that either. I appreciate the simplicity of this one's design. It's easy to operate, and it's easy to clean.
Finally, the Vitamix warranty will provide you with peace of mind. This covers shipping, service, and parts. You'll probably never need to use it given the Vitamix 5200 customer reviews. Furthermore, Vitamix is a company that is well-known and trusted. The blenders are built in the United States to ensure high-quality standards.
All right, let's dive into specifics and see why this machine is worth the money!
A Little Vitamix History
Vitamix is a fourth-generation business that still manufactures its blenders in Ohio. And it just celebrated its 100th birthday last year, in 2021!
In 1921, William Grover Barnard founded the Natural Food Institute, which would eventually become the Vitamix Corporation. The first Vitamix blender was created in 1937.
Let's see what makes the Vitamix 5200 such a great blender!
The Base
The base is what makes the magic happen. Without a good strong motor, you're not getting much done.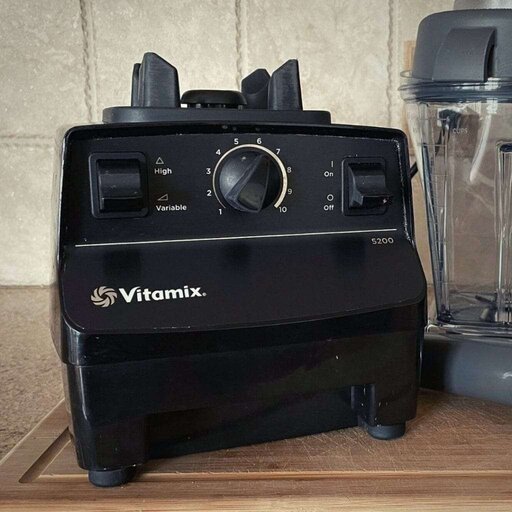 Build Quality and High-Performance Motor
The Vitamix 5200 is a high-performance blender with a 2.0 horsepower motor. It's intended to be an industrial blender capable of blending anything you put in the container, but it's also useful for personal and home usage.
The motor's 2 horsepower works out to about 1,380 watts and the blades turn at 37,000 RPM. In other words, the rotational speed reaches speeds of up 240 miles per hour. The motor's power and incredible speed enable friction heating for soups and other mixtures that must be heated.
The motor is composed of metal ball bearings, which reduce friction and extend the life of the machine. Actually, all of the motor components are composed of metal. As a result, unlike other blenders with plastic parts, this blender is quite sturdy and dependable.
Finally, the Vitamix 5200 has a sophisticated cooling system. This allows the motor to be cooled while in use. But just in case, the system includes built-in thermal sensors that shut the machine off automatically if the motor begins to overheat.
I've actually put this feature to use more times than I'd like to admit. My favorite treat at night is frozen banana nice cream. Frozen bananas are really hard on blenders! Especially when you're using very little liquid. I'm not making a smoothie here! Sometimes I push the motor a bit too far. It'll turn off, but a few minutes later it's ready to go again!
I've had my Vitamix for more than 8 years now, and the motor still works like new! Even with the abuse I give it.
10 Speed Settings
As previously mentioned, the Vitamix 5200 does not have pre-sets for different tasks. I prefer this because I think it's unnecessary.
The Vitamix 5200 base has 2 large switches. One turns the matching on and off and accesses the variable speeds. The other kicks in high gear. The variable speed setting has 10 speeds, which allows you to control how much the motor is working and the intensity of your blend.
I always start at 1. No matter what I'm blending. I like to start the machine low, let the container catch and be perfectly in place, and make sure everything in the blender is where it needs to be.
Then I adjust from there because the speeds can be changed while the blender is operating!
The higher the speed you choose the smoother your blend will become. Stay on a low speed for chopping things up. Access the higher speeds for things like smoothies or protein shakes.
And if you're making something how, kick in the high gear!
The Vitamix Container
The Vitamix 5200 comes with their 64-ounce classic, large batch container. It is made of polycarbonate, which is lightweight and sturdy. It's also BPA-free, so there are no worries about toxic chemicals leaching into your blended foods or drinks.
| | |
| --- | --- |
| Max Capacity: | 64 ounces or 2 liters |
| Material: | BPA-free Tritan Plastic |
| Height: | 13.4 inches tall |
| Weight: | 2 pounds 10 ounces |
| Dishwasher Safe: | No |
| Tamper: | Included |
| Measurement Lines: | Ounce and cups |
| Blender Series Compatibility: | Full-size C-Series |
Capacity
The Vitamix 5200 comes with a container that holds 64 ounces, making medium to large batches simple.
Material
The Vitamix 7500 blender comes with a scratch-resistant container that is ideal for storing and blending all types of foods. The Easterman Tritan Plastic container is BPA-free and quite durable.
Glass blender jars are more fragile than this hardened plastic, so they can shatter. Furthermore, the material meets or exceeds all FDA requirements. Hardened plastic is preferred by most chefs and commercial users since it is easier to clean and less prone to breakage.
Dimensions – Not Low Profile
The 5200 Vitamix comes with a classic, 64-ounce large batch container. Along with the 5200 base, this is a very tall matching when fully assembled. If you plan on keeping your blender fully assembled on your counter, this one may not fit under your kitchen cabinets.
Vitamix does make a low-profile container you can purchase. The base is still rather tall, but in the shorter container, you save a full 3 inches. The only drawback to the low profile container for the 5200 is it only holds 48 ounces, not 64. Some other Vitamix models do have low-profile containers that are 64 ounces, but the base of these containers is not compatible with the 5200.
The taller, narrower, 64-ounce container does have some benefits though!
The container's design is crucial for creating a strong vortex that draws the ingredients down through the blades and then up the sides of the container.
The top of the classic 64-ounce container is similar in width to the base. This makes it simpler for frozen or thicker ingredients to enter the blade and generates a large vortex.
The vortex creates a continual circular motion which causes the materials to be fully blended or crushed.
Recently I broke down and bought a new container. After 8 years mine was pretty beat up. The blades had hit spoons a few times (whoops!), and we developed a crack at the bottom after being dropped several times (things happen!).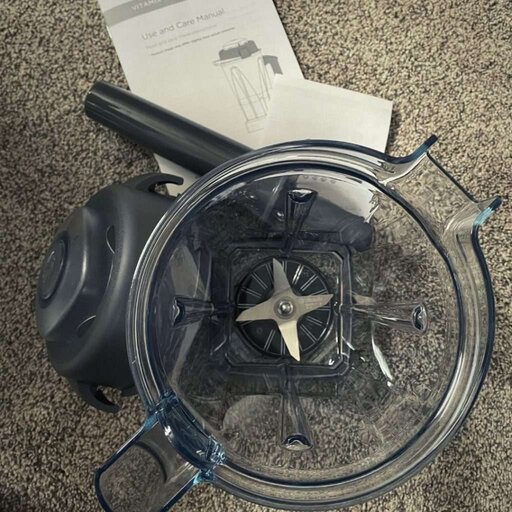 Honesty, I'd always wanted a low-profile container. So I opted for the 48-ounce container. The only real difference I've noticed is that this one seems to be quieter than the 64-ounce. I have no idea why! But it's large enough for everything my family makes and works every bit as well as our old 68!
Unboxing My New 48-Ounce Container
Blades – Fixed and Non-Removable
Vitamix's stainless steel, laser-cut blades are said the be resistant to dulling or bending. I can attest to that statement! I've had my 5200 for more than 8 years and the blades are sharp as ever! But I've chipped them up a couple of times by trying to sneak spoons into the working unit (I know! I know! Stupid!)
The Vitamix 5200 blender comes standard with wet blade technology. So the blender works best with at least some liquid or other moist ingredients like nut butter, ice, or anything that will liquify as it blends.
And the blade is meant to be non-removable. Vitamix does include a wrench that can be used to take the blade out for deep cleaning, but I doubt you'll ever actually use this.
Actually, my replacement container didn't even come with a wrench! I definitely don't recommend trying to take it out.
The non-removable blade actually makes it easier, and safer, to clean. No more cutting your fingers on blender blades in your sink! I'll explain more about cleaning in a few.
The wet blades do not work well at all on completely dry ingredients. I make a blend of chia seeds, hemp hearts, and flaxseeds that I sprinkle on pretty much everything.
I tried to make this in my Vitamix and it did not go well! The seeds definitely pulverized, but they started to heat and clump and got stuck in the bottom beneath the blades.
That's just not what this blade is designed for.
You can, however, purchase a dry blade container! Dry blades are great for grinding coffee, grains, milling flour, or making your own three-seed protein sprinkle.
Now you have the best of both worlds! A wet blade that will do pretty much everything, and a dry blade for some of your specific baking needs.
The Lid
The Vitamix lid is rubber and comes with a plastic centerpiece that can be removed. This allows you to add ingredients safely, and without a huge mess, while the machine is working.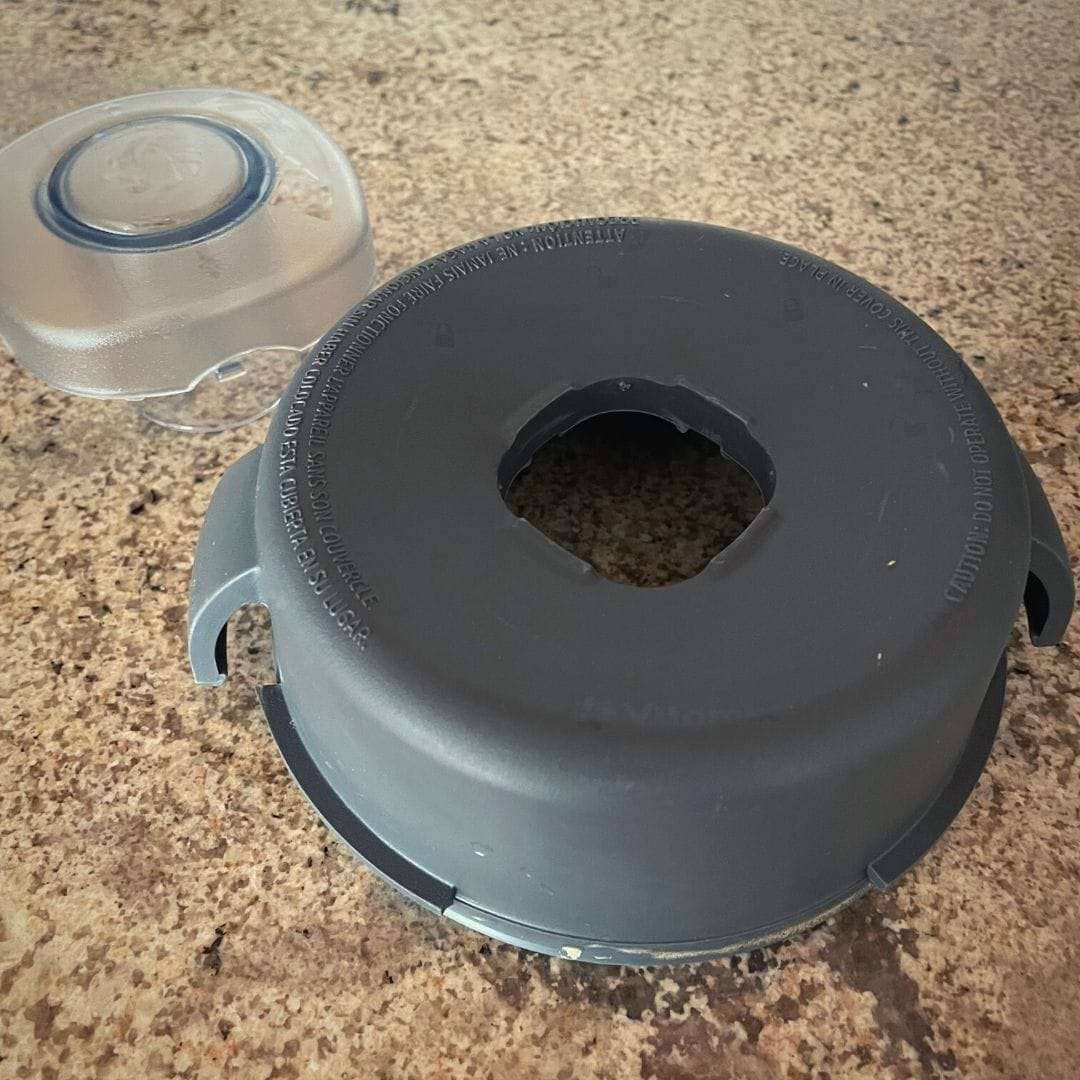 It also gives you access to use your specially designed tamper. You can use the tamper to push down ingredients while the blender is operating, without fear of hitting the blades!
The tamper also helps to remove air pockets that can form around the blades. This is especially helpful when making thick blends like almond butter, hummus, or dessert dips.
Easy to Clean
Finally, cleaning and caring for the Vitamix 5200 container is simple. The Tritan plastic is designed to prevent contents from attaching to the container's side.
All you need to do is give the container a quick rinse in the sink, fill it with a few drops of dishwashing soap and some warm water, and put it back on your base. Blend for 30 seconds at the highest speed and you're done!
I do like to give it another quick wipe with a cloth before I empty the soapy water, just to be sure. Then rinse and set aside to dry.
Hand wash the base when necessary and wipe it dry.
And remember that none of the Vitamix parts is dishwasher safe!
Vitamix 5200 Warranty
The Vitamix 7500 blender comes with a 7-year warranty, which is the longest in its class. The company also provides a number of exceptional warranties and guarantees. For example, it covers all repairs, including shipping costs on all items.
What is the Vitamix 5200 warranty, exactly? The blender motor base, blades, and any containers that fail within 7 years from the purchase date are all covered by the Vitamix warranty. In addition, it covers any flaws in materials, craftsmanship, or as a result of typical use and aging.
Vitamix will, at no charge, repair the defective blender or component part within 30 days of receiving the returned product.
Vitamix has been making blenders in the United States since 1937. It is one of the most well-known and respected blender brands both commercially and at home. They have maintained their reputation by producing stellar products, honoring their warranties, and through amazing customer service.
What You Can Do With a Vitamix 5200
Now let's take a look at what this blender is designed to do!
Make Smoothies and Juices
This is what I use mine for most of the time.
Make fresh, delicious drinks from fruits and vegetables. Vitamix blenders utilize the entire food, including fiber, to create healthy snacks.
The Vitamix 5200 is an incredible smoothie-making machine. Blend on high to pulverize fruits, nuts, seeds, leafy greens, and even carrots for your shake or smoothie.
I love pumpkin seeds and chia seeds in my smoothies for the protein and omega-3 boost. And there's just no better way to get your kids to eat their greens than by sneaking them into a delicious smoothie!
Create Delicious Hot Soups
Yes. Seriously. The Vitamix can make soup!
The Vitamix's blades reach speeds fast enough to generate friction heat, bringing cold stuff to steaming-hot in around six minutes.
Grind Nuts and Coffee
It's never been easier to create flour at home. Turn coffee beans into ground coffee, or mince garlic and ginger, for example. Grind your favorite nuts into delicious nut butter, as well as other tasks.
I even make homemade soymilk, almond milk, and oat milk with mine! All you need is your 5200 and a nut milk bag like this one, and you're good to go!
Learn how to make your own homemade non-dairy milk here!
Make Frozen Drinks in Seconds
And here's my other favorite thing to make! You may call them frozen treats, I call them Nice Creams!
Recipe below!
It can also make refreshing cocktails such as margaritas, pina coladas, and daiquiris by shaving or smashing ice.
Puree
The Vitamix 5200 can easily puree firm veggies, chickpeas, dates, and whatever else you desire. My kids are a few years beyond baby food now, but I definitely used mine to create homemade baby food. Both healthier and cheaper than what I could buy in the store!
The Vitamix 5200 is perfect for thick or thin blends, as well as hard vegetables, chickpeas, and other ingredients.
Chop
The Vitamix 5200 is ideal for preparing and chopping food. It's simple to prepare salsa, salad dressings and dips thanks to its straightforward variable speed control. Start with a low speed for chunky salsa, or smooth it out at higher speeds.
Mix Batters and Dough
Mix pancake, waffle, cookie, muffin, crepe, and cake batter quickly and efficiently with a Vitamix. It can even knead bread and pizza dough!
Make Dips and Spreads
Make all sorts of delicious dips and spreads. Serve them with a crunchy, fresh salad for a quick and easy snack or appetizer. My favorite is the No Oil Hummus from the Engine 2 Diet. It's incredible!
Make Dressings and Sauces
Make delicious, versatile sauces that can also be used as marinades for your entrees. Make pesto, tomato sauce, or applesauce in a snap if sauce is on the menu.
Vitamix 5200 Review & Ratings
The Vitamix 5200's customer, expert, and culinary review ratings are all excellent. It's a great blender that thousands of customers praise.
Reviews on Amazon
The Vitamix 5200 is a popular blender for Amazon customers, who give it 4.7 out of 5 stars. In fact, there are over 5,375 consumer reviews, with 94% of them receiving a rating of 4 or higher. In other words, 9 out of 10 consumers would highly recommend the Vitamix 5200.
Here's a bit of what customers on Amazon have to say:
"I love this blender"
"This is not a blender, it's our way of life"
"Smoothest smoothies ever"
"I don't know how I ever survived without a Vitamix. This is a marvelous machine I never want to be without!"
Of course, reviews aren't always amazing. That would be ridiculous! Complaints from poor reviews include:
"Bad Lid/Plug design; bad instructions, bad attitude, great smoothies."
"I may have had unrealistic expectations."
"Extremely powerful, but hard to clean and you won't believe the noise."
I expect a blender to make a decent amount of noise. Personally, this is nowhere near the noisiest blender I've owned. But you can't please everyone.
This is another reason I love a product with a full 7-year warranty. Something happens, send it in. For free shipping!
Reviews on Vitamix
Customers that buy directly from Vitamix give the 5200 an outstanding rating of 4.8 out of 5 stars. 1,590 ratings were 5 stars, and 823 ratings earned a score of 95.7 percent or higher!
Here's what Vitamix customers have to say:
"Powerful. Easy. Smart looking."
"Im in Love!"
"love more than any appliance in my house"
"I love it!! I use it every day."
"Vitamix Makes A HUGE Difference!!!"
Some of the pros that people listed include: Easy to clean, Quality, Easy to use, Power, Texture Quality, Precise Textures, Durability, Versatility, Recipe Enhancement, and Product Features.
Some of the reasons people chose the 5200 include: "Full Warranty, It's the best blender, To Make Smoothies, and Convenience", "To make smoothies/juice, Help others live healthy", and "Because I always purchase top of the line appliances."
Consumer Reports Rating
An 88 out of 100 is the best blender grade on consumer reports. The Vitamix 750 Professional Series and the Vitamix 7500 are the only blenders to obtain a perfect score. However, with a rating of 84, the Vitamix 5200 ranks third. Over 94% of consumers recommend the Vitamix 5200 as a gift to a friend based on their experiences using it.
Is the Vitamix 5200 Worth the Price?
The range of prices for blenders is kind of incredible. You can pick one up for anywhere from 50 bucks to over 1,000! Even within the Vitamix line itself, you can find blenders in the low to mid-300s, or upwards of $800.
The 5200 falls right in the middle. I've seen the price as low as $379 on Amazon or $480 on the Vitamix Online Store itself. I've even seen it for $549. So definitely shop for the best price!
Personally, I'm willing to spend a bit more money to get a quality product that is going to last and isn't going to frustrate me by not doing what I want it to. And I hate shopping for things like these! Don't get me wrong, getting a new appliance is amazing! It's so fun to open your new toy, wash it, and test it out for the first time! But all of the shopping, reading reviews, hoping I made the right decision…hard pass.
I've had my 5200 for more than 8 years. I recently needed a new container, so I got one. The base unit works like it did when it was new. And it always performs as expected.
But that's just my experience. However, given the reviews you'll find online, on Amazon, Vitamix, and Consumer Reports, I can say with confidence that my experience is the rule, not the exception.
It was definitely worth the price for me.
Vitamix 5200 Accessories
Accessories are fun. Especially when they're going with something you already love. There are several accessories available to make your Vitamix 5200 blender even more useful and flexible. These attachments, depending on the job you need them for, may be well worth the money.
Dry Blades (Dry Grains Container)
Aer Disc Container
Various Container Sizes – I have a new 48-ounce container, and I love it!
Personal Cup Adapters
Tampers
Tamper Holder
Blender Smart Scale
Always make sure any accessory you buy is compatible with the C-Series Vitamix blenders.
Dry Blades or Dry Grains Container
If you want to mix a lot of dry ingredients like grains, flours, or rice, I recommend investing in a dry blade container. I have one so that I can make my homemade seed protein sprinkle! Quick and easy recipe below!
This is definitely not necessary, though! The wet blade that the Vitamix comes with will handle almost every single blending task you'll ask of it. The dry blade is for very specific applications.
Aer Disc Container
This is a new one! The new Aer Disc Container. This is one of the most versatile blender attachments Vitamix has developed. It allows you to whip, muddle, foam, and emulsify ingredients.
The design of the disc pulls liquid ingredients through small holes of the rotating disc. This aerates and emulsifies the ingredients as it works.
It's perfect for making soups, sauces, dressings, and beverages! Buy it to whip up pesto in a flash. Make quick work of milkshakes and cocktails. Whip up vegan whipped cream in seconds while you're at it!
Various Size Containers
There are several sizes of Vitamix 5200 containers available in terms of capacity and usage. The 5200 comes with their classic 64-ounce tall regular container. If you find this size too big or tall for your needs you can purchase shorter sizes, like the 32 or 48-ounce containers (which is the one I have). Here are all of the sizes you can buy:
64-ounce low profile jar – not compatible with the 5200!
Personal Cup Adapters
Vitamix Personal Cup Adapters are great for you busy people and fitness buffs out there! You can get two 20-ounce personal cups with lids and a blender adapter for your Vitamix 5200.
These personal cup adapters are leak-proof and double insulated to keep your drink cold.
Simply flip the personal container upside down on the attachment and blend. When your drink is finished, remove the adapter from the blender and tip it upside down. The ingredients will fall into the 20-ounce personal travel cup. Screw the travel lid on and you're ready to go.
Refurbished Vitamix 5200 Blender
Struggling justifying the price? Check out Vitamix's refurbished line! You can potentially save quite a bit of money by buying a Vitamix Certified Reconditioned Standard blender.
How much you will save depends, but typically refurbished Vitamix blenders are priced at $100 to $200 cheaper than brand new. I've seen them sold for as low as $350!
They come with a full 5-year warranty, and you can purchase an additional 3 years if you want.
This is actually how I bought my blender! I've had mine for more than 8 years, and at the time even the refurbished price was a stretch financially. And mine is still kickin'!
You can find a Vitamix Certified Reconditioned 5200 on both Amazon and the Vitamix website.
Click the button below for a refurbished one from Amazon sold by Vitamix.
Vitamix 5200 Frequently Asked Questions
How do I clean the container?
Simply run hot tap water and a bit of dish soap on high speed for 30 seconds to dislodge food stuck around and under the blades.
What's the difference between an Explorian E310 and a 5200?
The Explorian E310 comes with a pulse feature, while the 5200 comes with two different speed settings: High and Variable.
What are the different sizes of containers?
You can purchase a 48-ounce container, a 32-ounce container, a 32-ounce Dry Grains container for blending flour and other grains, a 20-ounce cup container, and a scraper attachment, all sold separately.
How does 5200 make hot soup?
Vitamix 5200's powerful blades can reach such high speeds that they can create friction heat, bringing cold ingredients to steaming hot temperatures in around six minutes.
How does the variable speed control dial work?
Vitamix 5200's variable speed control dial has ten speeds that can either chop, grind, or fully liquefy your ingredients.
My Personal Sweet Cherry Banana Nice Cream Recipe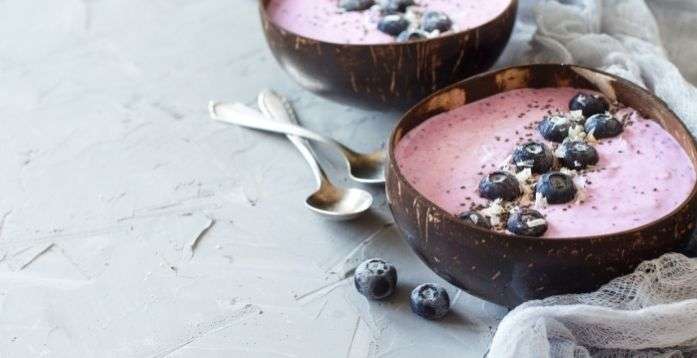 This is like a cross between ice cream and a protein smoothie. The way I make it has a lot of calories, but it's also incredibly healthy. And I will choose this over other sweets any day of the week. This hits my sweet tooth without being full of sugar, and it's something I can eat every night as long as my calories allow.
Ingredients
150g frozen bananas
140g frozen sweet cherries
2 Tbsp Adam's peanut butter
40g pitted deglet noor dates
1/4 cup vanilla soymilk
1 scoop Orgain Simple Organic Plant Protein, Creamy Vanilla (one serving is actually 2 scoops, but I only put in one)
1 Tbsp unsweetened shredded coconut
10g cacao nibs
Directions
Add everything except the cacao nibs and shredded coconut to your Vitamix 5200 and blend until it reaches your desired consistency. I like mine a little bit chunkier. If you like your smooth, just keep on processing.
Transfer to a bowl and top with the shredded coconut and cacao nibs. Mix them in and enjoy!
Notes
You can add everything to your Vitamix and blend it all at once, but I like the texture of the coconut and cacao nibs unblended.
Add hemp hearts, flaxmeal, or chia seeds to up the calories, protein, and healthy fat content if you want.
Substitute the sweet cherries for frozen blueberries, strawberries, or mango! All are amazing!
I freeze the bananas by cutting them into roughly 2-inch chunks. Place them in Zip-Lock baggies and leave them in your freezer for at least 24 hours. They freeze faster and blend much easier this way!
I buy a ton of bananas every time I go to Costco. I let a few bunches sit and ripen. Not until they're completely brown, but sweeter than I want to just sit and eat. Then I cut them up and put them in baggies in the freezer so that I have them on hand for any night I want to make a nice cream.
Homemade Seed Protein Sprinkle
You need a steady supply of protein to help make sure you're recovering from workouts or just maintaining your lead muscle mass to keep you strong and healthy. This 3-seed sprinkle is fantastic on rice, grains, granola, non-dairy yogurt…actually it's pretty amazing on just about everything!
And it's simple!
Add equal parts chia seeds, hemp hearts, and flaxseeds to your Vitamix Dry Container or other grinder and blend until mixed. Simple! I usually do 1 cup of each.
Store in the fridge and sprinkle on just about everything to get a little protein and bain-healthy omega-3 boost.
Vitamix 5200 Conclusion
The Vitamix 5200 blender is a workhorse that can handle any blending task you ask of it. Whether you're looking for a personal or commercial-grade blender, the Vitamix 5200 has you covered. With its powerful motor, quality construction, 7-year full warranty, and stellar reviews, this blender can do it all. If you're in the market for a new blender, the Vitamix 5200 should be at the top of your list!
The only downside to the 5200 is the price. If you're on the fence, check out Vitamix's refurbished blends, or look at a Vitamix E310 Explorian (their most affordable model). That's another fantastic Vitamix blender, but at a slightly lower price point.
However, you really can't go wrong with the Vitamix 5200. I highly recommend this Vitamix blender model.
Now that you've checked out my favorite blender, have a look at my favorite food processor!
What's your go-to blender?